How can Artificial Intelligence and Digital Solutions boost wellness in the work
Posted by HR Tech Partnership on December 18th, 2020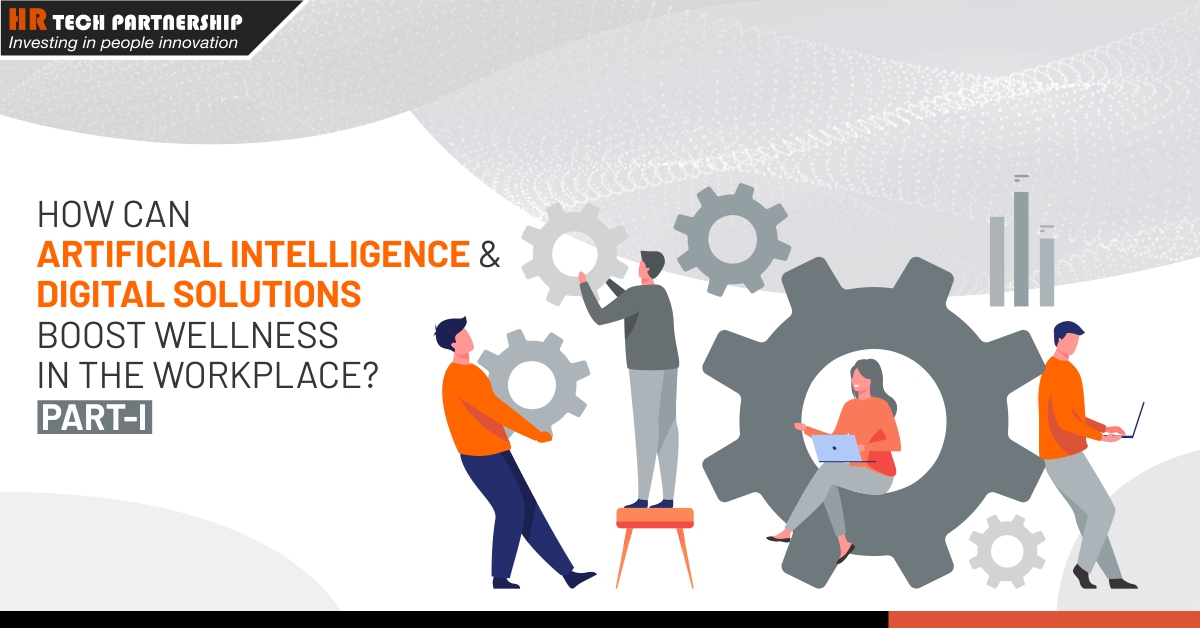 A blog by Gabriel Barnes
The last few years have seen a heightened emphasis on the importance of well-being in the talent & workplace productivity space. Studies show that when a workforce is physically and mentally healthy, they are more productive and more efficient. One in-depth Special Report by the Financial Times from 2019 highlights just this. However, an even greater spotlight has been shone on the wellness of workers in the wake of the coronavirus outbreak and the subsequent shift to remote working. 74 percent of finance leaders plan to keep at least some of their workforce working remotely on a permanent basis, and this is going to have a significant impact on three key areas of wellbeing:
Physical wellness has been and will continue to be affected as workers are isolated from on-site services that they previously had access to. They may no longer be able to go to the gym during the working day, for example, or even take a break from sitting for long hours at a time.
Perhaps more significantly, this crisis has had a huge strain on employee mental health. Anxiety about the virus itself aside, workers have found themselves stressed and over-stretched, perhaps working full time whilst caring for family, without being able to remedy this with social interaction.
Interwoven with this is the impact on people's financial wellness. Jobs have been threatened and recent months have been characterised by uncertainty, meanwhile, employees have had to contend with increased financial pressure.
Is the solution already out there?
In recent years, the foundations have been built for an increased presence of Artificial Intelligence and digital solutions to boost employee wellbeing, and therefore productivity. These vary in complexity. At one end of the spectrum, wellness applications such as Calm and Headspace have made an appearance and been met with popularity. Even the use of a product as simple as Google Calendar can be effective, improving company-wide time management and organisation. Meanwhile, the introduction of more advanced technological solutions has also taken place, with HR leaders harnessing metadata to give them insight into their workforce's well-being and to provide the employees themselves with access to tools to improve it. Leaders can then get a sense of how the mood within their company is fluctuating, assess levels of burnout, and then take proactive, preventative measures to combat this.
A look to the future…
Physical Wellness
Now that the shift to remote working has almost entirely taken place for white-collar workers, the need for these digital solutions is greater than ever. In the future of work, an evolution of this trend is anticipated, with certain technologies expected to become more prominent. Recently, individual applications and products have dominated the realm of physical wellness. Wearable technology has seen a surge in popularity, with functions that cater to the individual's need, such as step counting and nutrition tracking. An even more recent development, since the beginning of lockdown, has been a shift away from employees using these wellness products on a personal basis and towards employers rolling out virtual events and services which their workforce can access. Virtual exercise classes and online GP appointments have become particularly widespread. This is set to continue in the foreseeable future, with a renewed emphasis on occupational health and safety. Digital solutions that can track virus cases and social distancing, ensure commutes to work are safe, and address personal health concerns specific to remote working – such as the use of sensors to monitor musculoskeletal pain – will become necessary.
Mental Wellness
The same can be said of employee mental health, which has, over the last few years, been given increasingly more exposure, and rightly so. In spite of this, the responsibility has mainly been on individuals to ensure that they are mentally healthy – by making use of applications to monitor sleep quality and engage in mindfulness and meditation routines – whilst employers themselves have tended not to provide these services. Now, the importance of a mentally healthy workforce is clearer than ever with the psychological effects of lockdown having become apparent – namely stress, anxiety, isolation, and exhaustion. It is therefore predicted that there will be significant growth in the use of Artificial Intelligence and digital solutions for managing and monitoring staff mental health in the near future. Perhaps one of the greatest losses as a result of the move to remote working has been that of casual office conversation – those all-important exchanges around a water cooler or during a tea break that provide a sense of community. Augmented reality will play a key role here in assuaging feelings of isolation by creating virtual communities. There will also likely be an increase in the use of chatbots capable of assessing a person's emotional state and detecting signs of mental ill-health.
Financial Wellness
Finally, it is predicted that digital solutions will be employed more and more by employers to financially support their staff. Before the advent of the coronavirus crisis, financial well-being was mainly maintained through education on money management, the use of applications that could track spending and saving, and the availability of affordable loans. Ensuring financial wellness is currently a significant challenge, with workers experiencing widespread job insecurity and perhaps relying solely on the Furlough scheme as their source of income. Now that the line between work life and home life is almost entirely blurred, flexibility will be key when leaders are trying to ensure that their workforce is financially healthy. Options will be given to reduce the number of hours or days spent at work, to prioritize caring responsibilities, or to take salary cuts, and this means that there will be new challenges in managing payroll for HR leaders. Employees may now also favor different saving programmes due to uncertainty about the future – short-term ISAs will be preferable to pension schemes for some, for example. Digital solutions will no doubt ease this process towards flexibility considerably, and this financial well-being will have a positive impact on mental wellbeing too.
Introducing AI in a practical way
The incorporation of Artificial Intelligence can be transformative, and it has applications in ensuring and maintaining staff wellbeing and increasing productivity. Some leaders may be hesitant to set this in motion due to perceived challenges.
Corporates might not already have teams with the relevant skillset to deliver this change. Fortunately, the talent pool from which recruitment is possible is larger than ever, due to the shift to remote working.
The cost of investment in digital solutions may be off-putting. This must be weighed against the risk of not addressing the issue of employee wellness, and it should be borne in mind that Artificial Intelligence does not hinder but enhances business and the customer experience.
It is possible to pilot the use of Artificial Intelligence by focusing on one aspect of wellbeing – such as musculoskeletal pain – and exploring its applications and benefits.
Wellness is clearly now a strategic priority for businesses. Leaders are accepting that personal health is integral for an organisation to function and are increasingly turning to digital solutions to address this.
The HR TECH Partnership (HRTP) runs a human capital digital innovation hub which can facilitate this low-budget experimentation of Innovation in HR/Innovation in the human capital space so that leaders do not have to make large commitments in the first instance.