How to Setup Tally Remote Access with Tally.net ID?
Posted by Christian Stewart on December 29th, 2020
Are you looking for a remote access solution in Tally ERP 9? Then you are probably in the right place. Here you will learn the solution to activate the remote access function in Tally. The term "remote access" refers to limitations that most organizations face. Sometime before the development of remote access, resources could only be used if they were available on the Internet. They can only be used when they are not physically present and inaccessible from a remote location. When the office is closed, the data is inside, so it cannot be used outside the company. A similar problem arises for businesses with Tally's accounting software.
How does Tally Remote Access work?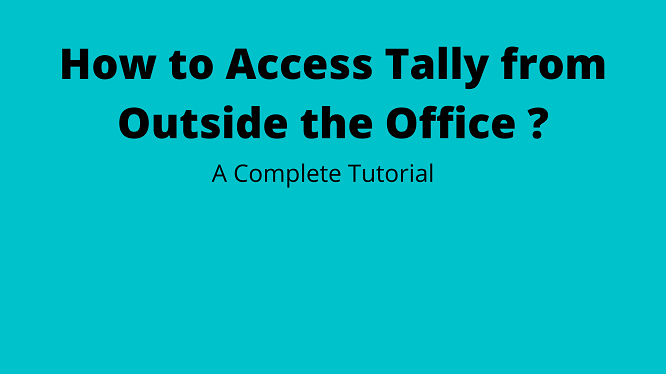 With Tally Remote Access, you can use and access Tally data, even when you're out of the office. Tally's software can only be accessed from anywhere via an internet connection. Quickly check your account balance, read invoices, financial obligations, etc. With Tally's remote access, you can access your data without time constraints or restrictions. Thanks to this, the management of all accounting resources is reliable and convenient. It offers the following benefits:
Universal availability (24 * 7)
A reliable and convenient way
Highly secure and encrypted
Print locally
Compatible installation is not required
The Tally software itself provides a method for quickly enabling remote access features in Tally ERP 9. You can easily connect and access Tally data. Most importantly, the user must have an Internet connection, a valid Tally.ERP 9 license and a suitable connection to the Tally.Net server of the same version.
How to activate remote access in Tally ERP 9?
Many users want to know how to activate the remote access feature in Tally's accounting software. This can be done directly through the Tally software. It gives you. All you need to do is follow these simple steps:
Create a Tally.Net user ID and confirm the user account.
Next time, activate security checks. (Tally Gateway> Comp. Information [F3]> Change> User Security Control> Yes).
Activate the RAS function on the taskbar (Tally Gateway> function [F11]> function Tally.NET [F4]).
Enter all details here, eg B. Connection name, contact name, call function, SMS connection information, etc. Click Ctrl + A to accept the request and close the window.
Next time, create the remote users (Tally Gateway> F3> Security Management> Security Types> Tally.Net Owner).
Use your email id and password that you received with the registered email id. Select Yes to enable local TSP services and local SMS. Press Enter when you are done.
After logging in to the company, log in from the remote location (Run Tally> Company Info> Log in as a remote user).
Enter your Tally username and password to connect to the remote Tally.Net server.
All remote companies are listed in the system tray.
Select the desired Tally.net server and click Connect. You can now use the Tally software without any problems.
Is Remote Access to Tally ERP 9 Secure?
Yes, remote access via Tally.Net takes place in a very secure environment. You do not have to worry about the security of your important data.
1. The data is stored on the client's computer to prevent data leakage.
2. All your data is sent between systems in encrypted packets. Therefore, there are no losses between transfers.
3. Users can configure different security levels for the external users they want to access.
Disadvantages of Tally.Net Remote Access:
Even though I mentioned above, I explained all the steps to implement Tally Remote Access. However, there is no doubt that it has never been so easy for users. Another problem that users may encounter when accessing a Tally remote is to install the Tally software on a target device of the same version. Tally software cannot be installed on a Mac or Linux device and therefore cannot be used there. Tally Remote Access cannot be performed on mobile devices.
Final Solution:
In the above article, we explained a step-by-step solution to enable and disable remote access in Tally.ERP 9. But it was almost never easier, so many users want to find the best alternative for themselves. One such solution is NetForChoice Tally on Cloud, which allows users to get Tally ERP 9 online accounting software from anywhere. You can log in to your browser and access the Tally software no matter what device you are using, including mobile phones, laptops, tablets, etc. For more information, visit the number below (+ 91-9887280808).