Lalazar And Siri Paye - Beautiful Destination of Naran Valley
Posted by Jennifer on January 13th, 2021
Lalazar
Lalazar is located in Kaghan Valley Pakistan, 21 Kilometers from Naran. It is at a height of 10,499 feet. Lalazar is a lush green meadow packed with wild flowers and pine and forest. The road to Lalazar is a typical Pakistani mountain road, with hills on one side and a deep valley on the other side. The only difference was that the valley is the Kunhar River. Lalazar is a place where you might enjoy camping. It's a must-see when you visit the Kaghan Valley and draws a lot of tourists every year. Its great beauty is highly regarded, and people are going to see its amazing wildlife. It's a complete day trip like Saiful Maluk, too. On a bright sunny day, the snow-covered top of "Falak Sonia" can be seen from Lalazar. This peak also has a fairy tale storey in its history, like most of the other places in the Kaghan Valley. You can also see the Kunhar River flowing about a thousand miles below the level that you will be standing. It's accessible from the jeep track of Naran and for hiker lovers, there is another track – 5 hour hike – over a mountain pass from Lake Saiful Muluk.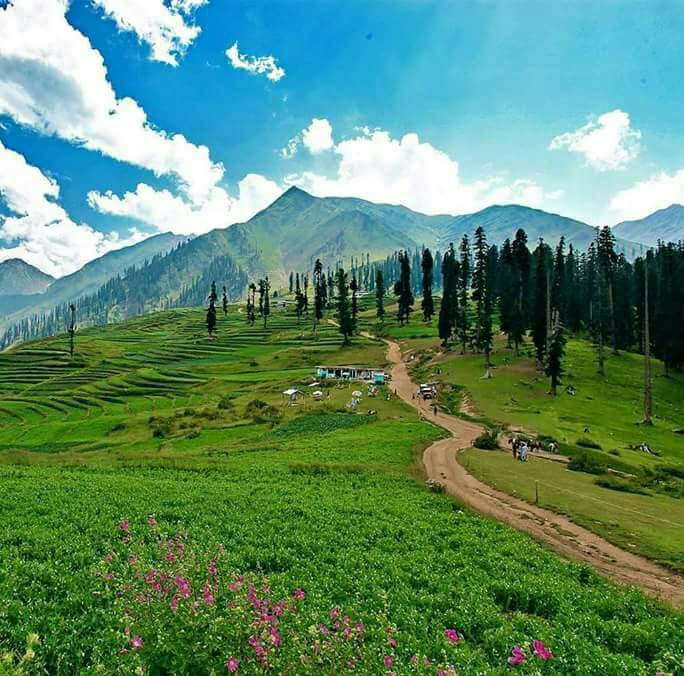 Siri Paye
Located on a lush green plateau in the Kaghan Valley, this is one of the most beautiful places one should visit in Pakistan. The top Paye shows a scenic view of Musa Ka Musala, Makra Peak and Shangra Peak.
It's a 6km hike or a horseback ride from Shogran Hill Station. The hike is enjoyable when you're out there with your buddies, but it's very hectic when you're alone as the trail is steep and there's nothing but wilderness. Besides, the ride to the top is very exciting as one comes across the meadows, Lake Siri and Lake Paye. Local children give you local fruit such as figs, locats and berries. There are also jeeps available to carry you to the top, i.e. the Paye.
Siri Lake
Siri Lake is situated near Shogran in Siri, on the way to Payee in Kaghan Valley, Pakistan. It is located at the height of almost 8500 feet (2590 meters).
Payee Lake
Payee Lake is located in the middle of Payee meadow, near Shogran in Kaghan Valley, Khyber Pakhtunkhwa province of Pakistan. It is situated at an altitude of almost 2,895 metres (9,498 ft.) It is surrounded by Makra Hill, Malika Parbat, Musa Ka Musala and the Kashmir Mountains. The lake can be reached through Kiwai, passing via Shogran by a jeep road. There is a challenge in breathing because of the height