Rotator Cuff Injury, Diagnosis, And Stem Cell Treatment For Rotator Cuff Injury
Posted by Minal Malik on February 8th, 2021
The rotator cuff is a set of four muscles and tendons that attach the shoulder blade to the proximal part of the arm or the proximal humerus, it serves to stabilize the shoulder and socket and also helps to lift and rotate the arm.
Rotator cuff common injuries and causes: common injuries to the rotator cuff include inflammation of the tendon itself or the surrounding tissue called the rotator cuff tendonitis or subacromial bursitis or more significant injuries such as tears.
These tears can be small or partial in size or they can involve the entire tendon's full thickness and be quite large, they occur because of wear and tear as we age or from acute traumatic injuries.
Symptoms: Symptoms of rotator cuff injury are following such as
Pain on the outside of the shoulder down the arm and up to the neck.

Inability to raise one's arm above shoulder level

Continuous pain in the shoulder regardless of night or day but more if resting on the affected shoulder.

Difficulty in rotating and weakness in lifting the arms.
Treatment for rotator cuff injury: Treatment for rotator cuff can involve simple measures such as rest and activity modification to avoiding activities that are painful for your shoulder, to things like physical therapy and icing the shoulder, and pain medication such as anti-inflammatory medications like ibuprofen and aspirin.
Surgical treatment for rotator cuff injury: Surgery is a good option for the treatment of rotator cuff injury or tears when non-surgical measures such as physical therapy and pain medications have failed to provide symptomatic relief over a period of time.
Other reasons for surgery include a large tear or tears that are resulted from an acute traumatic injury, finally, if someone has a high demand occupation that requires a lot of overhead shoulder activity, this may be another reason to consider surgical fixation.
Surgery is typically performed arthroscopically although an open incision may be needed in rare cases. The arthroscopic approach uses small incisions around the shoulder to insert a camera and arthroscopic equipment to perform the work. The goals of surgery are to remove inflammation, remove the diseased portion of the rotator cuff and repair the rotator cuff tendon back into the bone.
For more information visit https://shifarejuvenation.com/
The recovery period of surgery: Recovery after surgery can be lengthy and can progress over several months, typically the patient will be in a sling for four to six weeks after surgery and continues for five and six months.
Physical therapy for rotator cuff injury: Physical therapy is usually individualized and prescribed by the surgeon after surgery is performed, in general, however, the patient starts with passive range of motion exercise where motion is generated by the therapist and later towards the active range of motion where the patient performs the range of motion exercises. After a range of motion has returned, strengthening exercises can begin.
The prognosis for rotator cuff repairs is excellent, particularly in terms of pain relief, functional results can continue to improve even out to one year. The majority of the patient will return to a high portion of their activities within four to six months including sports.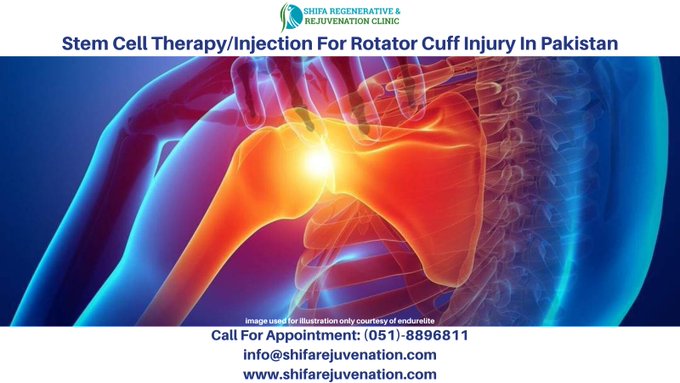 Stem cell treatment/injections for rotator cuff injury: Stem cell therapy helps repair rotator cuff injury and tears using minimally invasive and ultrasound-guided injection precisely into the torn areas of the muscle and tendons.
The results from the stem cell therapy have resulted in more than 70% of patients who received groundbreaking stem cell therapy for rotator cuff injury noted improvements in range and of motion and inflammation reduction of 80% on average. Further clinical trials have also shown that patients benefited from quicker recovery and can get back to things they love faster than those who undergo traditional surgery and treatments.
Sadly 6 out of 10 patients of rotator cuff injury surgery don't heal afterward, in fact, a US government-sponsored investigation into healthcare quality recently reviewed more than 150 published studies and concluded that there was no solid evidence that rotator cuff surgery benefited patients any more than no surgery at all.
Stem cell therapy highly enriched regenerative stem cells contains multiple growth factors and cytokines which not only accelerate recovery but also stimulate the recovery process of tissue regeneration which directly results in inflammation reduction and pain relief and optimization in quality of life for suffering patients.