Picking the Right Baby Dressing Table
Posted by johnhrq on February 12th, 2021
There is so much more to preparing a baby room than getting the crib and there are way more items with specific functions than most people would have probably guessed. Take a baby dressing table, or changing table as an example. It is a piece of furniture meant to make it easier for you to dress your child and to change those stinky diapers. Makes sense, right? That is a task you will have to perform everyday, so of course there is a piece of furniture dedicated to making it easier to do. But now this leaves you to wonder which type of dressing table is for you.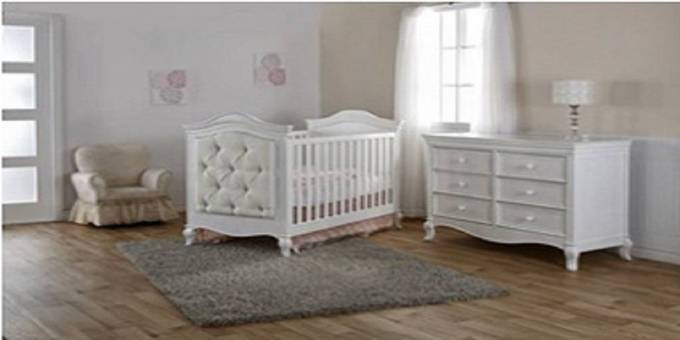 Attached To A Crib
First off, a dressing table might not be something that you need to buy separately at all. Some other pieces of furniture like cribs will have one attached to them on the side so that you can make this purchase a two in one. This Davinci Piedmont crib has a small changing table on the side along with some storage space underneath. It combines the purchase of two items into one, potentially saving you a few dollars and the time spent looking for them separately. You can save some space with this option as well if you go for something like this mini crib from Davinci, which also has a changer attached, but is just a bit smaller than the other one.
A Tray Can Convert Just About Any Surface
If saving on space truly sits high on your list of priorities, then a changing tray could be the right call. In case you did not know, a changing tray is a tray used for changing baby diapers with small compartments on the side for any products you might need like lotions, powder and fresh diapers. Because it is a flat, lightweight item, it can easily be placed on top of almost any flat surface in your nursery to provide a suitable station for changing your baby. Similar to changing tables connected to cribs, changing trays can save on space, and possibly a few dollars. You can buy the tray and leave it on top of a dresser consistently, or move it around at your convenience in the moment.
A Stand Alone Dressing Table
This option is by far the best if you really want a piece of furniture committed to the role and not added on to anything else. A dressing table will give you a bit more dedicated space for changing your child's clothing and diapers. It also comes with a fair amount of storage underneath it to keep clothes, diapers, wipes, and anything else you might want to have right on hand when changing your child. A nice one to look at is this Davinci Jenny Lind changing table available at Kids N Cribs online. It is compact, reasonably priced and makes a beautiful addition to a room.
There is a lot more to a nursery than the crib and some baby clothes. Out of all the other things you are expected to get, you are still left with an immense amount of options to choose from, even if you only just discovered that some of them exist. This list was meant to break down what some of your options are for baby dressing tables so that you will be less intimidated by the need for it and more excited to find the right piece of furniture that will carry you along for the first few years of your child's life. For all of these dressing tables and more online, visit Kids N Cribs to shop now.

For more information about Nursery Furniture Sets and Wood Crib With Changing Table Please visit : Kids N Cribs.