The Historic Downtown Area of Clermont Florida
Posted by Beni Restea on February 23rd, 2021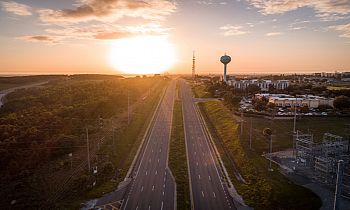 Imagine a place where every building has a story. A place where every street is lined with tales that go back as far anyone present can remember. Can you see it in your mind's eye? Congratulations: you've imagined the tranquil, picturesque sidewalks and storefronts of the historic downtown area of the city of Clermont FL!
That's right: this is a place with a long history and a riveting past, a past that will draw you in and have you exploring its intricacies in no time. This fascinating district is small in geographic terms but big on stories: with dozens of unique storefronts, restaurants and homes, there's no end to the list of things you can see and do in this charming part of Clermont FL!
So what exactly is there to do in this historic district, and what's the best way to do it? Well, that's what we're going to be telling you in this article! There's so much to see and do, you're going to need a tour guide of sorts. Of course, it's up to you on how you choose to enjoy this picturesque area; we're just going to be giving you some friendly pointers!
If you find yourself particularly enamored by this historic district, why not consider making it your primary residence? Do yourself a favor and get in touch with one of the real estate agents in Clermont FL and see what's on the market. Who knows? Before long, you might be calling this picturesque little town home!
Visit the Clermont Historic Village Museum
If you're one of those people who really like history, you're going to love this one. If you're in need of something to do for an afternoon, then a visit to the Clermont Historic Village Museum is likely to suit you very well! This charming establishment offers a wide variety of fascinating exhibits and displays, all of which make for a delightful time, anytime.
So what does this museum look like? Well, it's less of an archetypical museum and more of a collection of museums. The Clermont Historic Village Museum is actually a collection of buildings, each with its own unique and fascinating story to tell. Now let's take a look at some of the most interesting exhibits and structures!
The Herring Hooks Schoolhouse
The first thing you're going to want to see in this fascinating place is the Herring Hooks Schoolhouse. This immaculately restored building offers a priceless view into the past, with its faithful recreation of a 19th century schoolhouse, replete with the same desks, table and chalkboards you'd expect in such an environment.
Despite the wealth of historical information this building contains, it's rather small; surprisingly so, in fact. Don't let its diminutive size fool you though; there's plenty of history here. This is, in fact, an exact replica of the original Herring Hooks Schoolhouse, which was actually quite small in size.
Clermont Historic Train Depot
If antiquated schoolhouses aren't your thing, we've got something that might be right up your alley: an excellently preserved historic train depot! This historic building had fallen into disrepair but was restored to its original state in 2011, and now stands as a fascinating memory of times long gone.
In this rivetingly refurbished historic building, you'll find everything you'd expect from a nineteenth century train depot, from a faithfully recreated telegraph station to historic timetables and more. Whether you're passionate about the history of rail travel or not, this is one exhibit you definitely don't want to miss!
Townsend House
Have you ever wondered what life in 19th century Florida looked like? Well, now you don't have to imagine; the Townsend House will give you an accurate picture that you can walk through and experience for yourself! This beautiful late 19th century home is a faithfully restored replica of the original Townsend homestead, and provides an unparalleled insight into the life of a nineteenth century homestead family in Florida.
So who were the Townsends? Well, the Townsends were the first African-American family to homestead in the then-young town of Clermont FL. These industrious citizens were responsible for several developments in the new community, including the St. Marks African Methodist Episcopal Church and the area's first school for African-American children.
Do some shopping
Once you're done at the Clermont Historic Village Museum, you might as well do some shopping. Luckily, the historic downtown area in Clermont is a great place to do just that! With dozens of cozy little shops and boutiques, it'll be quite a while before you run out of stores to visit. Let's take a look at some of the shopping spots in the area!
McKenley Rey Boutique
If you're in the mood for some new threads, there's one place that stands alone in the sheer quality and excellence of its work: McKenley Rey Boutique! This charming little artisan clothing shop carries a wide assortment of different styles of clothing, each with its own story. Each article of clothing is carefully and lovingly crafted, creating a unique and priceless stylistic and functional aesthetic.
One thing we should mention is that the store caters specifically to women and women's clothing. You won't find many articles of clothing geared towards men here. Even if you are a guy however, this is still a great place to visit. Pick up a cute dress or charming blouse for your lady, and you won't go unappreciated!
Downtown Partnership Farmer's Market
Once you've picked up some fashionable new articles of clothing at McKenley Rey Boutique, why not pick some delicious and eco conscious foods and goods as well? If that sounds like something you might enjoy, then you won't want to leave historic downtown Clermont before you visit the Downtown Partnership Farmer's Market!
There's no end to the things you'll find at this charming little farmers market; from locally produced apiary products like honey and beeswax to organic and responsibly grown produce. Whether you're hungry, thirsty or just want to have some fun browsing a green space, you'll find what you're looking for here!
Grab a bite to eat
If you're satisfied with your purchases and exploration of Clermont's history, there's probably only one thing still on your mind: food! Luckily, historic downtown Clermont is a great place to grab a bite to eat, with an abundance of charming little eateries and restaurants. With this much variety on display, there's no chance you'll leave hungry.
Montrose Street Market
What are you craving right now? A steaming plate of homemade empanadas? Maybe some Brazilian chouriço? How about a hearty, all-American hamburger? If you can't decide, there's one place that has all of these things: the Montrose Street Market! With nearly a dozen food vendors on the premises, you'll have a much easier time deciding what and where to eat.

This charming menagerie of shops, restaurants and vendors is perfect for the indecisive consumer, with foods from a wide variety of cultures and backgrounds. You'll find Korean food, Mexican food, American food and a number of other types of food. What's more, they even have weekly live music events!
Energy Lab Cafe
If you're in the mood for something light, you'll find just that at the Energy Lab Cafe. This chique, modern coffee spot has a tasty menu of cafe-style foods that are perfect for anyone in the mood for something light and delicious. From carefully crafted sandwiches to artisan pastries, there's a little something for everyone here.
Then there's the coffee! The Energy Lab Cafe is, at its heart, a coffee shop, and it doesn't disappoint. With a wide variety of delicious and stimulating brews to choose from, even the most demanding coffee aficionados are guaranteed to be satisfied. Whether you prefer a simple Americano or an elaborate latte, you'll find what you're looking for here!
Conclusion
With its breathtaking variety and charm, we think it's safe to say that the historic area of Clermont's downtown district has just about anything you could ask for in such an area. From its delightful selection of restaurants to
its charming attractions
, we think it's safe to say that there's a little something for everyone.