Check Out These New LED Light Bars at Diode Dynamics
Posted by johnhrq on March 17th, 2021
For savvy car and truck owners, there is only one name in auxiliary automotive lighting, and it is Diode Dynamics. For almost 20 years, Diode Dynamics has been the authority in LED automotive lighting, paving the way for superior optical focusing technology, better performance, and plug and play solutions.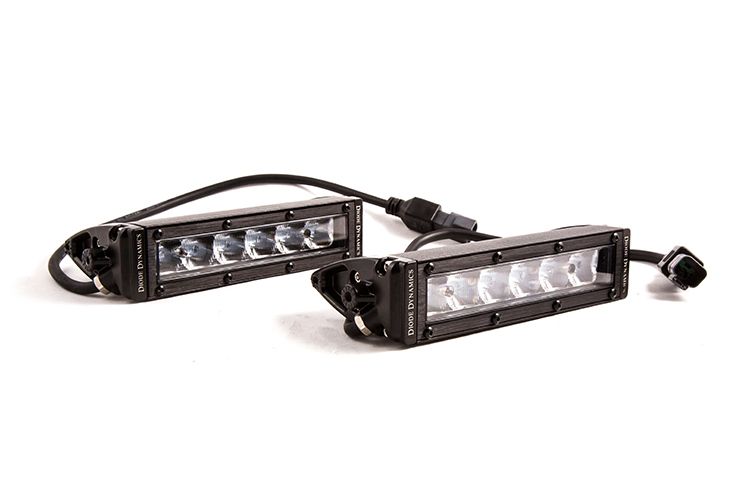 What Diode Dynamics also offers, in addition to superior technology and performance, are a series of kits and mounts specially designed for specific vehicles. In recent months, they've unveiled a few new special mount kits for LED light bars for the following vehicles.
1. Stealth Light Bar Kits for GMC Canyons
Among Diode Dynamics best auxiliary LED lighting solutions are its Stage Series LED Light Bar Kits. Diode Dynamics makes not only these LED off road light bars, but also kits designed for given vehicles - in this case, 12015-2020 GMC Canyons.
These kits are designed for direct fitment on 2015-2020 GMC Canyons, and are CAD designed to provide a factory-original look. They also mount to existing mounting points and require no drilling, cutting or alteration to your vehicle.
The kit itself is powder-coated to resist corrosion, which pairs nicely with their Stage Series light bars, which themselves are resistant to corrosion, moisture intrusion and vibration. For off-road vehicles, that type of quality is tops.
This light kit also comes with a wiring harness so you can easily provide power to a 30" Stage Series Light Bar, which, as a plug-and-play, high-quality LED light, will work with your vehicle's current electrical infrastructure.
2. Stealth Light Bar Kit for Chevy Colorados
Diode Dynamics also recently released a similar light bar kit designed for Chevy Colorados produced between the years of 2015 and 2020. Like the light bar kit described above for the GMC Canyon, this light bar kit is compatible with a 30" Stage Series Light Bar, is CAD designed for direct fitment and does not require any cutting, drilling or alteration to your vehicle.
It also comes with a wiring harness so that you can take full advantage of this plug-and-play LED technology, and is powder coated so you can better work with the elements. Whether you opt for this type of auxiliary lighting as a flood light, a work light, or an off-road light, Diode Dynamics has the mounts and kits you need to get it done!
3. Stage Series LED Light Bar Kit for Ford Rangers
Diode Dynamics has also recently released Stage Series Light Bar Kits for 2019-2020 Ford Rangers. Like the previous two kits, these are CAD designed for direct fitment to your Ford Ranger and mount to existing mounting points for the original look of a custom job.
Also like the kits mentioned above, these are rock-solid, powder coated kits that will stand up to the worst conditions you can throw at them. However, these kits are designed to accept either two 6" light bars or one 18" light bar across the bottom of the front grill. You can learn more about this kit on their website.
All of the light bar kits mentioned here are designed for direct fitment on the vehicles as described and are practically unnoticeable when the lights are not on. You can also choose between the optical focus you prefer in the Stage Series Light Bars with which they are designed to be compatible.
The Stage Series Light Bars themselves are available with white lights or amber lights - whichever you prefer - and are available in a driving pattern that is useful as a supplement to your headlights, as well as in a wide pattern and a combo pattern.
To learn more about their technical specifications, visit their website, DiodeDynamics.com or get in touch with Diode Dynamics at contact@diodedynamics.com or by calling them at 314-205-3033.
For more information about Ditch Lights and LED Light Bulbs For Trucks Please visit : Diode Dynamics.