Some Less Known Destinations in Kerala for a Romantic Escapade
Posted by Veena World Tour & Travels on April 15th, 2021
The mesmerising green expanses of Kerala promise an experience of a lifetime to people of all age groups visiting the state. However, Kerala is mostly known to be at the top of the list for couples looking for a bewitching honeymoon destination. With scenic water bodies, vast green expanses of tea plantations, and quaint beaches, Kerala has everything that honeymooners would need for a romantic escapade. While most Kerala honeymoon packages include popular destinations like Munnar and Kovalam, here's more on some of the less known honeymoon destinations that honeymooners must visit for a romantic time together:
Kumarakom: The backwaters form an integral part of the landscape of Kerala, and Kumarakom, a quaint backwater town on the shore of Lake Vembanad, is one place that every honeymooner would surely love. Couples can always spend a day or two enjoying in a house boat. Here, they can also indulge in activities like fishing and boating. Couples can also enjoy spotting some amazing migratory birds at the bird sanctuary nearby.
Thekkady: For couples looking for an exciting honeymoon, Thekkady is the place to be at. Here, couples can go on a jungle safari at Periyar Wildlife Sanctuary. The jungle ride would also cover a visit to the quaint Idukki town and a walk through the lovely vineyards. Travellers also highly recommend taking a stroll along the wide expanses of cardamom, coffee, and pepper plantations.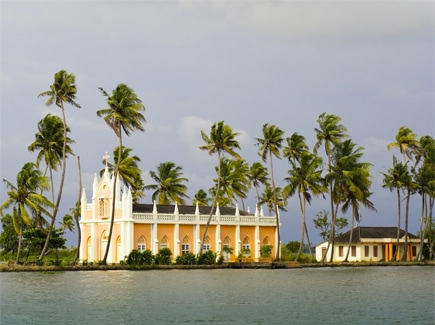 Poovar Island: One of the most beautiful islands in Kerala where travellers get to enjoy nature at its best, Poovar Island must always have a place on every honeymooner's travel list. This island, where tourists can enjoy the marvellous congregation of lake, river, sea, and beach, is only accessible by boat. Here, couples can spend some quality time with each other on the sandy beaches and even enjoy some local cuisines and culture by visiting the fishing village nearby.
Vagamon: For couples who enjoy spending time amidst nature's bounty, this is just the place to be at. Vagamon, with its three surrounding hills Thangal, Murugan, and Kurisumala, is totally removed from the hustle of civilisation, and couples visiting this place can enjoy exploring nature trails and even spot elephants, buffaloes, and other wild creatures in their natural habitat. Couples looking for some adrenaline rush can also go for paragliding here.
Varkala Beach: Varkala Beach, with its enhancing views of the Arabian sea on one side and dizzying cliffs on the other, is one of the most popular beaches in Kerala. Along with the white sandy beach and cliff paths, the medicinal mineral water springs nearby also attract tourists in large numbers.
Kuttikanam: For couples who are also wild life enthusiasts, Kuttikanam is the perfect destination. This is not a very popular tourist destination, allowing couples the privacy to spend quality time together away from all the commotion of the cities while exploring nature at its best. Couples can always go hiking and get a chance to spot monkeys, bisons, and even tigers in their natural habitat here.
Athirapally: For couples looking to enjoy the natural wonders of Kerala, Athirapally is a must-visit destination. The gorgeous waterfalls of Athirapally offer a mesmerising sight to behold. Here, honeymooners can go trekking or even go on a wildlife safari at the Chimmony Wildlife Sanctuary. Visiting the Kodanad Elephant Training centre can also be a fun experience.
While the above-mentioned places are not those that one may regularly find in Kerala honeymoon packages, couples can always get their travel companies to give them a customised itinerary including these places. Along with places like Munnar, Alleppey, Kovalam, Wayanad, etc., a visit to these places can help couples have a memorable honeymoon in Kerala.