Healthcare Software Solutions - Top Challenges and How to Overcome Them?
Posted by John Smith on June 9th, 2021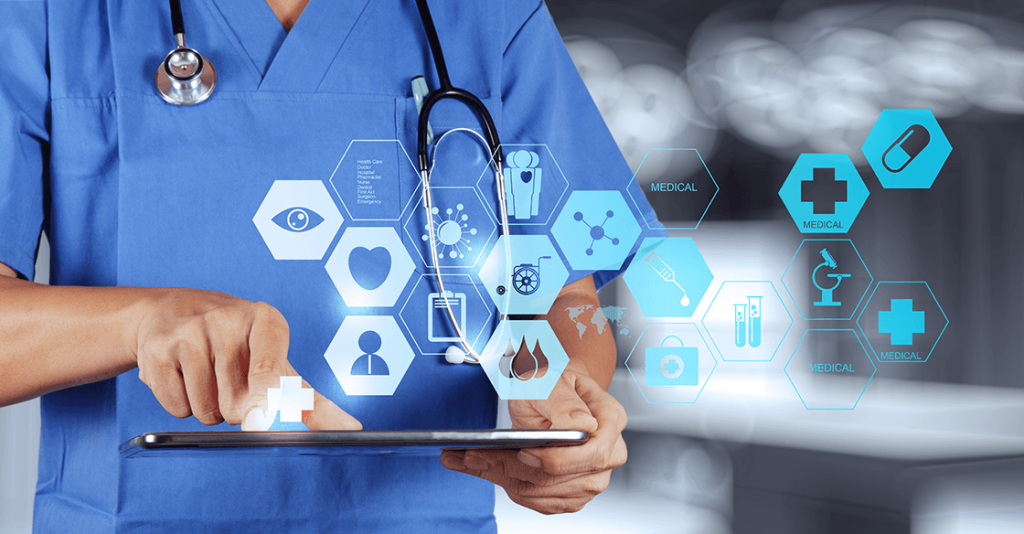 The growth of technology has affected each and every industry in the past decade, leaving no industry or business influenced by some form of hardware or software technology. The healthcare industry is no different either as it experiences the wave of healthcare technology coming its way.
Where previously healthcare professionals delivered medical services in person, are now providing services over the internet and so much more. Who would have thought, in a short span of time the industry as a whole would progress this far. However, additional factors are also contributing to the accelerated pace of technology adoptions and adaptation across the industry.
As with any technology, there come challenges that need to be addressed and solved accordingly. The healthcare industry is no different and faces a mirage of issues of its own. In this article, we will highlight the challenges that plague the healthcare industry, their solutions, and why outsourcing healthcare software development may be an answer to the growing healthcare use-cases.
What is Healthcare Software
Healthcare software refers to any software and mobile applications that are used specifically in the healthcare and medical industry. These software or mobile applications can be used primarily in two ways, that is for patient welfare and treatment or an institution's own internal activities. These activities may include daily administrative-type like, billing, human resources, transcription, electronic medical record keeping, etc.
Healthcare software can be straight off the shelf or even bespoke according to the needs of the healthcare institution. In the latter case, the services of a specialised custom healthcare software development company are used.
Common Types of Healthcare Software and Applications
Electronic Health Record (EHR) Software.
Medical database software.
AI and ML-based medical research software.
Medical imaging software.
E-prescription software.
Telemedicine software.
Appointment scheduling software.
Medical billing software
Hospital management software
Medical Inventory management software
Health tracking mobile Applications
Why Healthcare Institutions Outsource Healthcare Software Development and Services
Healthcare institutions are fast-paced environments, with many different activities working in synchrony. These concern all activities related to the treatment and welfare of patients and on the other hand all activities concerning the institution's own internal workings. Many of the times, these activities are prone tosystematic problems and process inefficiencies due to both technical and human reasons. There is only so much that healthcare institutions can bear before it starts to affect the delivery of medical services to patients. In order to address these vital issues, healthcare institutions resort to outsourcing as a saviour.
Healthcare outsourcing is an increasingly popular strategy being pursued by healthcare institutions around the world. This includes outsourcing both medical services, administrative activities, and one-time custom healthcare software development. Outsourcing allows healthcare institutions to have greater control over growing costs and the delivery of medical services. By delegating work to an outsourcee, healthcare institutions lift the burden off of themselves for certain health care activities that would otherwise keep the institution and vital healthcare institutions occupied. Involving a specialized third party to take over certain aspects of medical services will allow the healthcare institutions to provide services more efficiently and less expensive than other medical facilities. Free from performing tedious administrative activities which would normally keep the healthcare resources occupied, the health care administrators and staff focus on the institution's core business, which is to serve and provide the best possible services and value through patient care.
Challenges that Cloud the Healthcare Industry
One of the biggest challenges in the existing healthcare industry is that it's largely seen as an 'in person service, where doctor and patient sit together in one room and then seek consultation. While good in many ways, it does not align with modern calamities like the recent coronavirus pandemic. The delivery of medical services is not globally available remotely, affecting the elderly and those who cannot commute so easily because of their remote locations.
Healthcare institutions lack the proper inventory management systems in place to handle the large volumes of critical and expensive medical supplies used in the daily operations. The lack of proper management of inventory can directly affect the delivery of services at the front. Most of the inventory systems are outdated or simply inefficient, leading to either shortage at times or wastefulness, costing the healthcare facility money for supplies that either never get used or simply expire on the shelf.
Healthcare institutions hold large volumes of patient data going back decades and accounting to thousands and millions of medical records. In some public healthcare institutions these are file-based records which not only take up a lot of space but are also vulnerable from natural calamities or internal malpractice. These large volumes of data are inconsistent, not updated and differ from the records of other institutions. Not only is this medical data inaccessible but also at risk of compromise, affecting the privacy of the concerned individuals.
Healthcare Institutions are increasingly burdened with regulatory obligations, which include having a lot of legal requirements to fulfil all the time. The most notable among them are the administrative, physical and technical requirements warranted by the Health Insurance Portability and Accountability Act (HIPAA). Healthcare institutions are constantly battling paperwork and reporting obligations dealing in Protected Health Information - PHI.
Solutions
In order to remove the physical barrier between healthcare professionals and individuals seeking medical treatment. Both, the healthcare practitioner and the patient need to be connected in new and digital ways. Healthcare institutions can do that by investing in new cutting edge web-based and mobile applications that offer the functionality of virtual consultations. Not only will this provide convenience to the patient but also allow faster delivery of medical services to the patient with minimum delays.
In order to manage the medical supplies, healthcare institutions need to invest in proper inventory management systems. Especially the ones which are automated and optimised for the medical industry. It's favourable to pursue services from a specialised technology vendor that can provide a system that includes data analytics. Not only will this be constantly updated but also provide visualization of current inventory levels, increasing visibility and facilitating budget allocations.
Healthcare facilities need to invest in an electronic record management system-ERM. Investing in a cloud-based ERM will allow synchronised data access across the entire chain of healthcare facilities that implement such a system. A healthcare facility in another state will already have a patient's data if he or she is being referred from a similar group of facilities. Not only are the records updated in real time but are also more secure from physical risks. In some systems, a patient-side portal is also provided to overview medical histories.
When medical facilities outsource healthcare software development and services, they have the option to pursue flexible and powerful healthcare technology systems, making meeting regulatory obligations easier. These healthcare specific technology solutions provide the flexibility required to constantly keep up with the changing healthcare regulations and ensure healthcare institutions fulfil their obligations with more responsibly.