How to Get Into FinTech Industry: 5 Unknown Tips for Every Startup
Posted by Nimble Appgenie LLP on July 14th, 2021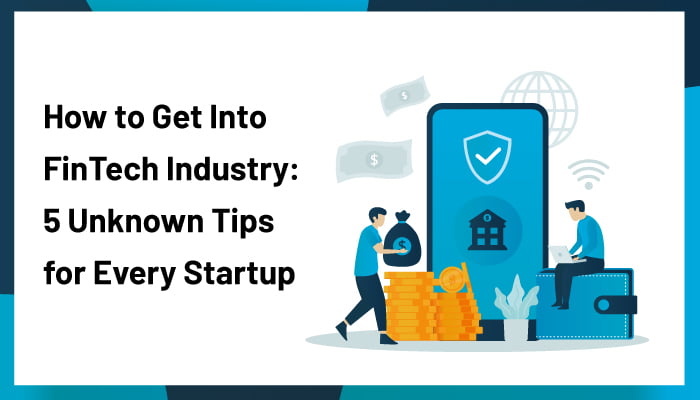 From food to health and from logistics to finance, the revolution of technology is now everywhere. It's interesting to see that FinTech has become the fastest-growing sector very early in the digital world. Advanced and innovative technology has improved the way in which the financial sector meets the financial requirements of customers. The number of FinTech startups also grew last year, and this incredible growth will surely continue to expand. But the question that arises in mind is how to get into the Fintech industry? With a competitive pool of startups entering the market every month, it can be tough to get your share of the pie.
But, Don't Fret. Many business aspirants in the market do not have much knowledge on how to get involved in FinTech. Also, they are less aware of the solution that can be a remarkable innovation today, FinTech.
It is the most secure way to simplify the activities related to finance. Such innovation and advancements significantly impact the financial sector and a gateway for startups to take them to new levels. As you can see, developing a successful FinTech startup concept is not that tough. You just have to focus on the particular problem that the users face and keep their requirements in mind. In this article, I've mentioned 5 unknown tips for every startup to get into the FinTech industry.
How To Setup Your Startup That Will Succeed?
The primary problem of most startups is that they try to become an exact copy of successful market leaders. Following their ideas is not wrong, but following their ideas without researching isn't a wise move. Combining technology with changing behaviors of the users is the best option for your business's success.
Valuable Tips That Help You Know How To Get Into FinTech Industry
1. Identify In Which Niche You Are In
It is very important for you to identify which niche that you are part of within the FinTech industry, because this will direct you in how exactly to get involved in the FinTech industry. For this, you can consider a few things, like which specific country, region, or product that you are targeting. Also, your particular expertise in the FinTech industry is one of the most important factors that help you pick the right niche for your FinTech startup.
The perfect way to go for this is to first understand your industry niche, and then find out which compliances are needed for that particular niche. If you don't know your industry niche, picking up the most suitable regulatory compliance for your Fintech will not be easy for you.
The most common niches in the financial market are:
Credit assistance

Insurance underwriting

Peer-to-peer lending

Personal Finance Management

Small Ticket Loan

Payment gateways

Digital wallets

Asset Management

Neo banking

InsureTech
2. Get Proper Understanding of Regulations
As we know, FinTech is the most regulated industry, and you must understand the regulations of this complex landscape. It includes everything like legal laws, requirements, regulatory authorities, legal laws, and many more. Since the General Data Protection Regulation (GDPR) came into the regulations industry, an understanding of regulations has become more important. Not only GDPR, Anti-Money Laundering (AML) policies, Customer (Know Your Customer) KYC compliance, and adhering to Payment Card Industry Data Security Standard (PCI DSS) all need attention.
In 2020, the CSBS (Conference of state bank supervisors) launched an effort to coordinate licensing and supervision among states. As of end-year 2020, 29 states had signed on to a multistate money services business licensing agreement, which streamlined the money transmitter licensing process. If you plan to start a FinTech startup, you have to deal with several financial technology regulations and apply for those regulations to avail of licenses. So, take everything into consideration, because laws can differ from state to state or country to country.
3. Your Competitors Should Be Your Focus
Once you know your niche and relevant regulations well, you will be much better equipped to know how to get into the FinTech industry successfully with your product. After these two important aspects, the next move is to know your competition and research about them. As there are several organisations in the market with the exact existing solutions, make sure your product is unique in some way. Finance is a very broad market with tough competitors. So, it becomes necessary for you to come with a solution that differentiates you from others.
Indeed, the major number of features may be similar, or it might be that you introduce options that have similar features to others, but you should focus on the quality and value that requires improvement. For example, your niche is mobile banking, and you can make it fast, innovative, and straightforward with advanced technology solutions like others. The FinTech industry is widespread and full of opportunities; you can gain those opportunities and get ample money with huge success. Moreover, an innovative solution further makes you win the target audience, and helps you beat the competition.
4. Pick Ideal Team
FinTech aka Finance and Technology. Both are important, and to make it a perfect combination, you need an experienced team of technical experts from the right FinTech app development company. They will help you build a unique FinTech app with all the latest, advanced, and innovative features. Your technology partner should be an expert and ready to provide a solution within your estimated budget.
So if you are seeking an ideal FinTech app development company, your focus should be to hire an expert developer that is cost-effective, and one who helps you know how to successfully get into the FinTech industry.
5. Go With Advanced Tech Stack
You can't rely on third-party frameworks for the development of your FinTech product. The focus is more on a unique solution that delivers a high level of performance and efficiency. You can't rely on third-party frameworks for the development of your FinTech product. The focus is more on a unique solution that delivers a high level of performance and efficiency. In FinTech app development, Ruby, JavaScript, Java, Swift, Kotlin, and Python are the most popular programming languages. Whereas the most popular frameworks are Node.js, React native, PHP, Laravel, CakePHP, and many more with databases like MySQL, MongoDB etc.
Data security is an essential aspect, so you should ensure that developers build the product with all security features, because leaked sensitive information can further increase fraudulent and unauthorized activities. Testing is essential for a FinTech startup to remove all the vulnerabilities and to ensure high-level security.
Conclusion
This is the time for you to understand how to get into the FinTech industry and to learn how to develop a successful product from scratch and make it ready for launch. The adoption of modern technology and digitization has pushed the Fintech market forward, but there is still plenty room for innovation. I have mentioned a variety of tips for every FinTech startup to get into the FinTech industry. Always keep these tips in mind in order to get success in the Fintech space.