Finding the Right Desk for your Home Office
Posted by Madison Liquidators on July 1st, 2022
Today I sit down at my desk in my home office to provide tips on finding the right desk for your home office. This one is a writing that I can honestly say, I can provide some expert opinions about. Selecting my desk was kind of an afterthought after a week of in office training at the Madison Liquidators office in Madison, Wisconsin. On my last day, I sat down with management to select my desk.
I had spent twenty years in business offices in both cubicles and shared offices which I thought gave me knowledge of office furniture. Which I can say in the general sense is true, but specifically in the realm of a home office, plainly speaking I had never done, and I failed to take some things into consideration, which I will cover for you below.
In my experience in offices, I was always most productive at an L shaped desk. I am admittingly somewhat bias to them, in fact I have told many people who come to me for general advice about office furniture "you can't go wrong with an L shaped desk." In what should have probably been a more thorough search, I told management that I would like an L shaped desk. They provided me with several options, and I picked one. Just that simple…
I ended up selecting a Harmony Collection PL Laminate series L shaped desk that I will highlight below. When it came to finish, I went with Newport Gray because I am somewhat basic and follow the popular trends of the day. It was a finish that is neutral enough to fit within my office with minimal remodeling. It just worked for me.
I arrived home to Alabama and the next week my desk showed up at my doorstep. I'm a handy guy so assembly was not a problem for me. It must be all those years of retail furniture assembly for my mother growing up, but I got it put together and placed in under two hours. I placed the desktop on it, haphazardly threw on a few owl decorations, and pulled up a chair and went to work. A year and a half later, I have no complaints, and have enjoyed the high-quality desk I have in my personal home office.
One of the most important aspects of selecting office furniture for the home office is preplanning. I will give a few tips to help with the process of getting ready to start your search for a home office desk. I cannot state enough the importance of paying attention to all the details of this phase of your search. This part of the process can make or break the entire search, so please take these to heart.
Preplanning Tips
#1- Knowing your space- This is crucial! Measure the home office space, then measure it again and when that is done measure it one more time. The reason this is so important is that a desk with a 96" length is not going to fit in an 8'x 8' home office space. A smaller desk will be required.
#2- Budget- It is important to make sure that you know how much you can spend on your home office desk. To do that you check your finances and set aside the amount that you are willing to spend.
#3- Define your style- This is the time that you need to set aside for establishing your personal style for your designated workspace within your home. One of the easiest ways to do that is to match the office space to the style of the rest of your home. But you may want to establish a contrasting style to separate the home/work areas. Either way, this is the time to determine the style.
Once the preplanning stage is complete, you should have a firm understanding of the size of the desk, how much you can spend, and the style and finish of the office furniture for which you are searching. This actually eliminates a substantial portion of the home office desks on the market today which streamlines your search and expedites the remaining steps.
Affordability and Quality
At this point everyone needs to come to a compromise. Two things must be reconciled before moving forward. That previously established budget and the quality of the office furniture. I want you to visualize this as a schoolhouse playground feature, the seesaw or teetertotter depending on which part of the country you live in. The goal is to balance the two on this "seesaw." Finding the perfect balance between affordability and quality is the best way to ensure that the home office desk that you select is the best fit for you. Leaning too heavily on high quality will mean that you will get less desk than you set out to get, while being budget focused can end up giving you a subpar desk that will need to be replaced at a later date.
Personal touches to consider
#1- Storage- Always pay attention to the storage options! This is a key feature of your workstation that you do not want to underestimate. Not having enough storage can ruin the entire home office flow. Therefore, spring for the extra pedestal drawers, the hutch, or the attached credenza. There is no such thing as too much storage.
#2- Accessories- Carefully consider accessories such as keyboard trays, monitor arms, and power modules for your home office desk. Each of these items offer unique changes to a home office desk. A keyboard trays take the keyboard off the desktop to give more workspace, the same goes for monitor arms, and power modules keeps cords in order providing power at the desktop.
Factors to Consider for Finding the Right Home Office Desk
#1- Size- Since you know the square footage of the workspace, you know what size desk can fit within your space. You want a desk that fills out the space but doesn't dominate it. If the home office is all desk, then the functionality of the space is going to be limited.
#2- Shape- Single desktop pedestal desks, dual desktop L shaped desks and peninsula desks, or triple desktop workstations as a U shaped desk are available choices. Also, if you are receiving guests in the home office you may want to consider a bowfront desk. Each of these desks have strengths and weaknesses that you must consider to find the right desk for you.
#3- Need- This is my personal factor for deciding what desk you will need. If you work with a laptop exclusively then a writing desk or standard pedestal desk would serve you better than an executive U shaped desk with hutch and attached storage cabinet. However, that desk is there for someone who needs multiple desk workspaces and extreme amounts of storage. Finding the right home office desk for you really comes down to this factor.
Selecting the Desk and Making the Purchase
Madison Liquidators is well known for their customer driven focus and service. We have assisted thousands of people find the right office furniture for them and will help you do the same. Remember at the beginning when I said that selecting my home office desk was somewhat of an afterthought? The week before I flew to Madison, I sent the size of the office space to management. They had already narrowed my search down to top selling models that previous customers have given great reviews for. I told them what I wanted and the size of the space I had, and they almost selected the perfect desk for me. Our customer service team can help you just as easy. They have a knack for being as hands on and supportive as you need. Give them a call for any level of support as you need. It's a toll-free call at (888) 831-1012.
Desk Details
Rectangular/Pedestal- The standard desk shape. Rectangular with a single desktop workspace. The pedestal variant is constructed with a desktop between two pedestals. Usually, each pedestal has a set of drawers in it and the desk typically employs the use a modesty panel.
L shaped- A two sided desk that allows the return to be placed on either side of the main desk. Extremely popular for office workers who multitask throughout the workday. The desk gets its name because the desk has the shape on the letter L.
U shaped- The Largest desk shape. The U shaped desk features three sides of desktop workspace. Being able to place the opening on either side of the main desk, makes it a versatile option for a larger home office.
Bowfront- The Bowfront desk is an excellent choice for a home office that will receive guests regularly. The front of the desk bows out towards the guest seating area creating an informal meeting area.
Peninsula- A peninsula desk is a more open version of an L shaped or U shaped desk. They look more like a table than a traditional desk which is appealing for a minimalist layout. Also, the peninsula desk makes for an excellent meeting space for guests.
Corner- It's technically an L shaped desk but is designed to be intentionally placed in a corner. Corner desks are a great space saving measure for limited square footage.
Examples from our Inventory
Rectangular Desk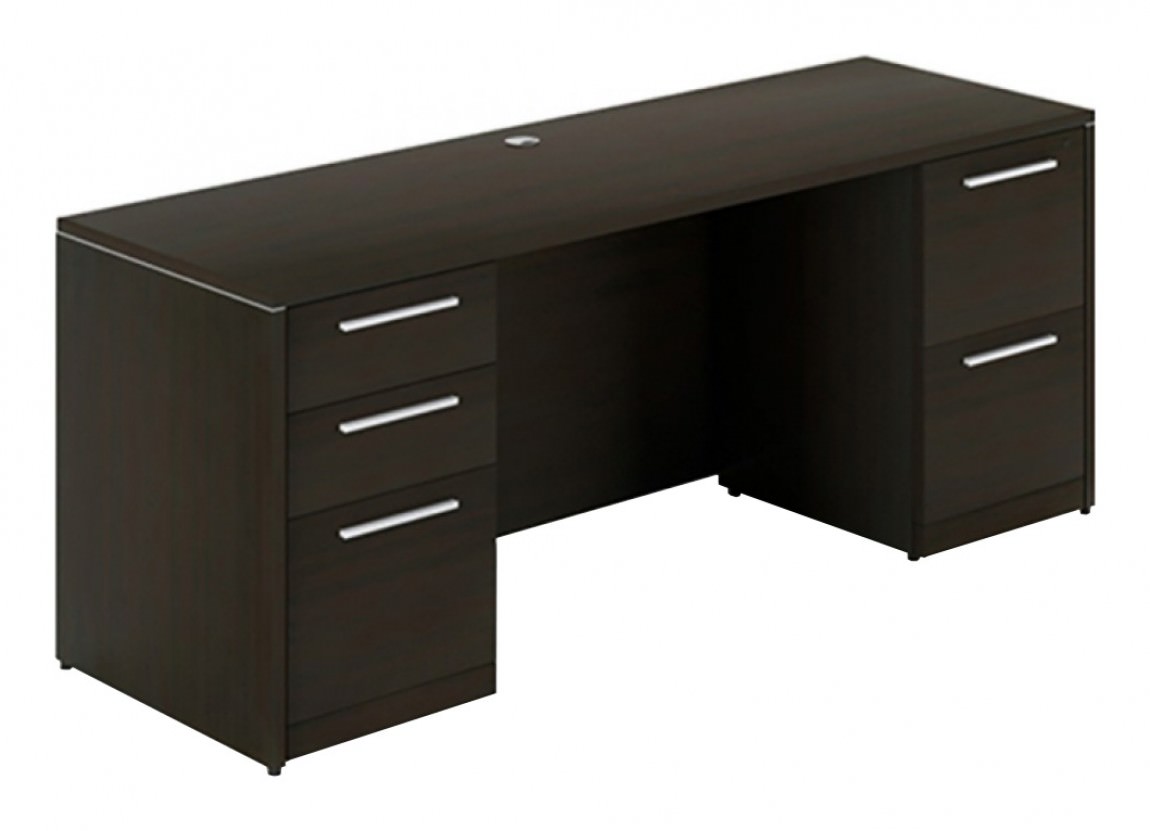 A Corp Design Potenza series desk that will fit well in a residential office. A standard desk that's perfect for either a desktop computer or laptop. Since it is a single desktop space adding the additional features of a keyboard tray and monitor arms will free up much needed desktop workspace. These modern features will completely transform the functionality of the workstation. Speaking of functionality, pedestal drawers on either side of the desk will ensure that the desk maintains a high level of organization. Featuring finishes of Blanc De Gris, Espresso CD, Grigio CD, Miele, and Noce which will allow the desk to fit nicely in just about any office setting. Corp Design provides a ten year warranty on their office furniture.
L Shaped Desk
This Harmony Collection PL Laminate series L shaped desk is representative of the desk that I have. Double the workstation of the traditional rectangular desk, which is great for managing multiple projects at once. Each side of the L has its own pedestal drawer for ample storage capabilities. This L shaped desk also carries the options of a keyboard tray and monitor arms to transform the desktop by providing extra workspace free of office equipment. Featuring the signature finishes of Aspen, Cherry, Espresso, Mahogany, Modern Walnut, and Newport Gray. Harmony Collection provides a five year warranty on their office furniture.
U Shaped Desk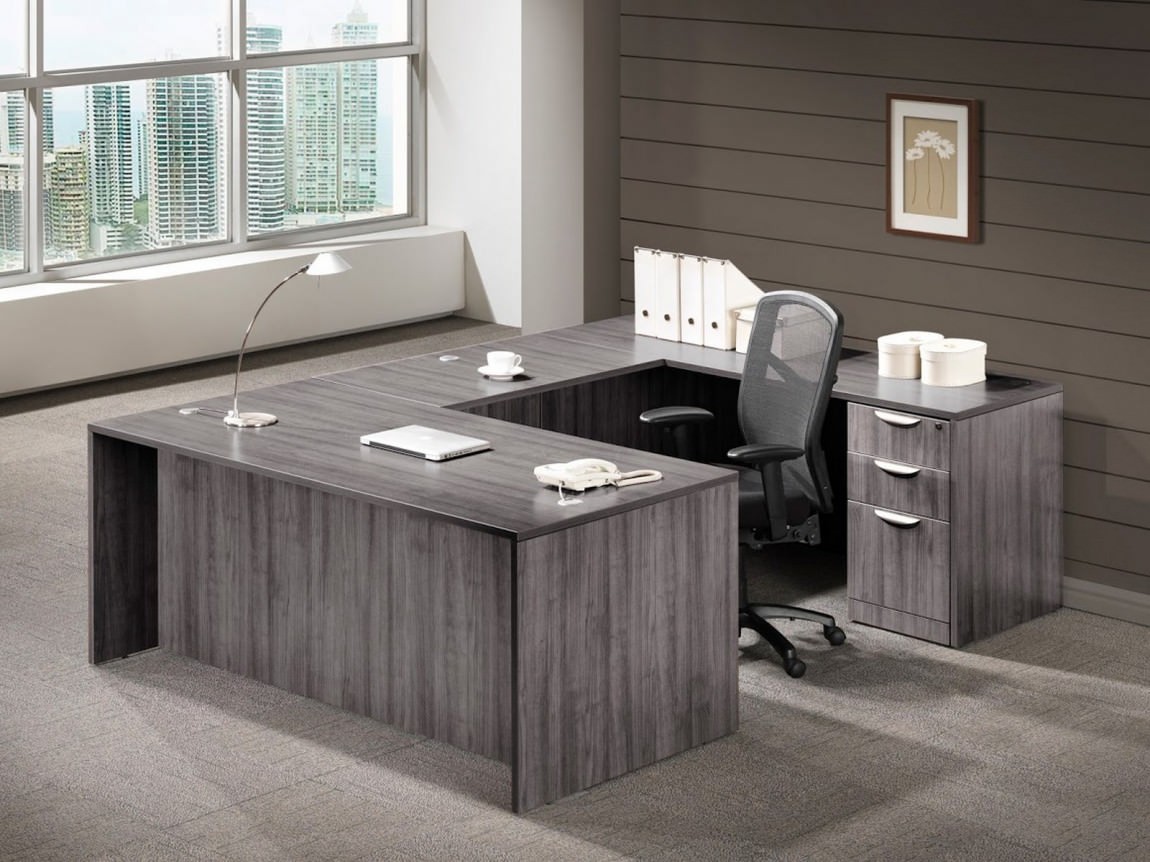 Another Harmony Collection PL Laminate series offering. This is a standard U shaped desk that has three sides between the main desk, the back credenza, and the bridge. There are plenty of options for expansion in other U shaped desk models. Whether it's a hutch, overhead storage, storage cabinet, or filing cabinet. Featuring several customization options such as drawers, keyboard trays, and monitor arms. The finish options are the same signature finishes as the L shaped example and has the same warranty.
Bowfront Desk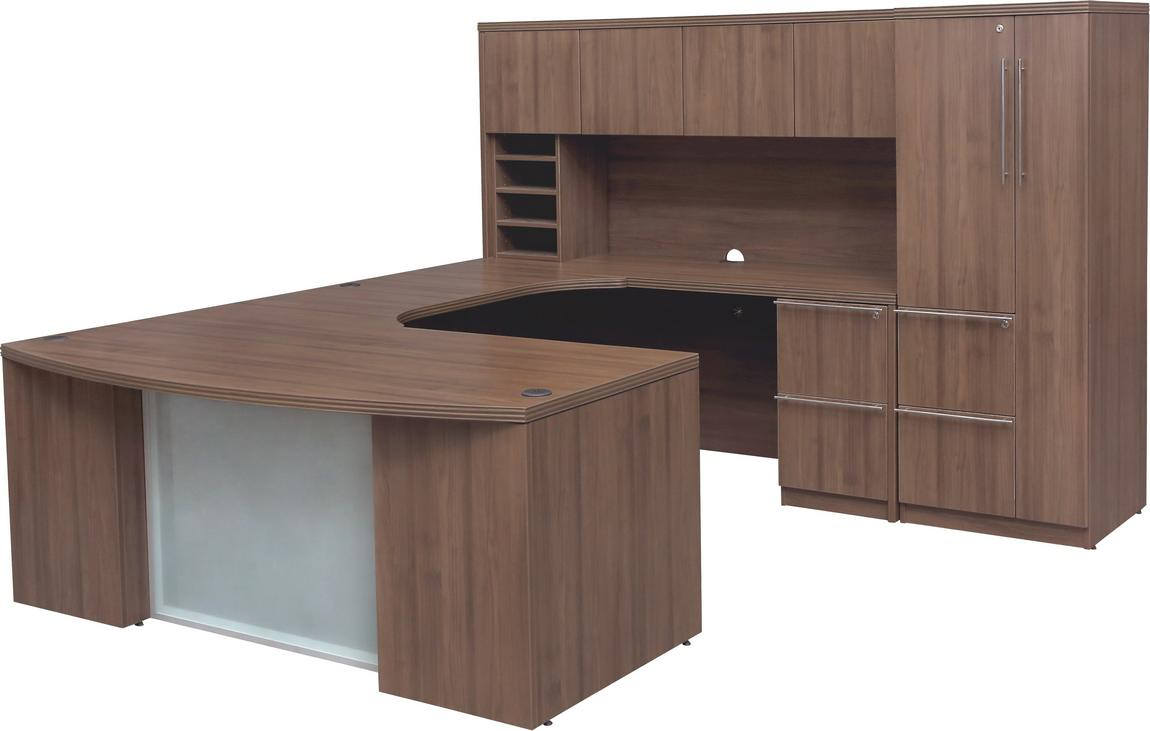 This Express Office Furniture Status series bowfront desk is an example with all the bells and whistles. The desk features a glass modesty panel as a focal point. This example shows that a bowfront desk can work in conjunction with other styles such as this U shaped desk. This versatility is invaluable in a residential office setting. Available in Dark Walnut, Gray Woodgrain, and Modern Walnut for a more traditional style palette. Express Office Furniture provides a five-year warranty on their office furniture.
Peninsula Desk
Another Corp Design Potenza series offering. This peninsula desk is a modern take on the L shaped desk. Since it is a very modern style, all the modern options are available from keyboard trays, monitor arms, and power modules. The open front is accented by the frosted glass modesty panel underneath the desk. It also features a variety of choices for drawer storage. This type of desk does fit well within an open office setting and will shine for anyone who needs as much workspace as possible without taking up all the square footage of the office. Available in the Corp Design finishes of Blanc De Gris, Espresso CD, Grigio CD, Miele, and Noce. Again, Corp Design provides a ten year manufacturer's warranty on their office furniture.
Corner Desk

Express Office Furniture provides this corner desk as part of its Express Laminate series. This desk is literally designed to be placed in a corner to save space in the residential office. Containing the option for two separate pedestal drawer systems for ample storage and the ability to add a keyboard tray. Available in several sizes to ensure that the desk fits the need of the user. This commercial grade laminate desk works best in a traditional office setting with the three finish options of Dark Walnut, Gray Woodgrain, and Modern Walnut. Again, Express Office Furniture provides a five-year warranty on their office furniture.
Final Thoughts
When selecting the right desk for your home office education is key. Hopefully, this guide has helped you expedite your search. I would like to emphasize one more time that our team at Madison Liquidators can take this guide to the next step by providing a one on one meeting to answer every question you may have and direct you to the perfect home office desk. We look forward to serving you and helping you establish the perfect office in your residence. Give us a call at (888) 831-1012 to speak with one of our dedicated sales team members.