Features of rail access platforms that will surely blow you away!
Posted by Affixscaffolding on September 22nd, 2022
Rail Access Platforms are created in a fashion that allows for easy and secure access to the Windscreen or Vestibule Doors for maintenance or inspection tasks on Metro Rail, High-Speed Rail, Subway, and Trams.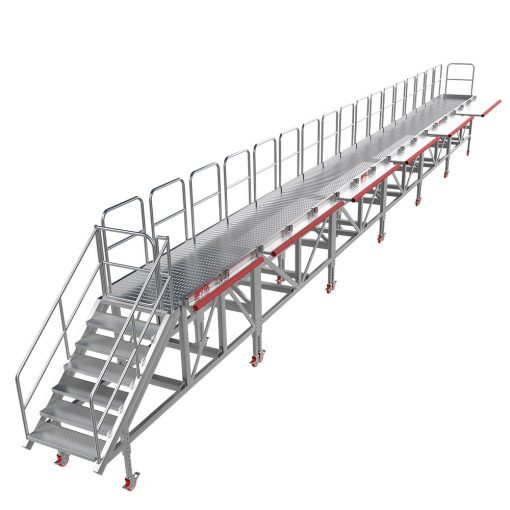 This structure has a height adjustment feature. High-quality, heavy-duty extruded aluminum alloys with a flawless look are used to construct the structure.
Features of rail access platforms
To prevent any accidents while working, the framework is adaptable enough to span any gaps between it and the vehicle.
The height may be changed using a straightforward Rack and Pinion gear arrangement.
The track wheels are held by this extra-sturdy chassis for simple installation in front of the train.
The clamps on the chassis ensure the safety locks are rightly in place with the track.
The platform's front is exposed. There is a permanent railing around the back. Doors that swing open and retract on the left and right sides.
Using a step ladder with a movable left-to-right or vice versa position, it is simple and safe to approach from the sides.
Ladder tread and anti-slip platform for increased safety.
The platform's front side has movable sliding fingers that may be adjusted to fit the train's front shape. Additionally, they have soft padding at the front edge to protect the train from any unintentional impacts.
If you also want to avail all these amazing benefits, Affix Scaffolding is the place for you, they deal in railway access platforms in addition to numerous other industrial scaffoldings and equipment that make your life easier.
The challenge and the solution
Many items on a train's roof area are taken for granted by passengers. The wiring looms that power things like doors, lighting, and device charging points are exposed when the internal ceiling panels are removed.
Since the units are attached to the top of the carriage roof, it can be difficult to reach them securely in a train maintenance depot environment.
The rail access platforms from Affix Scaffolding are perfect for securely gaining access to a train's roof. The lower tower structure is made of aluminum and mounted on a steel base to provide a compact footprint. An inclined ladder led up to the upper working platform. To close the space between the platform and carriage roof, fold-down flaps are attached to the leading edge of this platform.
The unique rail access platforms from Affix Scaffolding are the ideal tools for safe working at height during train repair and maintenance. Technical and training guides support the system's initial construction and secure operation. Utilize the best products within your budget for productive work. It will save you time and money.