Sports Shoes powered by technology; a sign of what?s to come
Posted by sarthakkmryadav on October 18th, 2016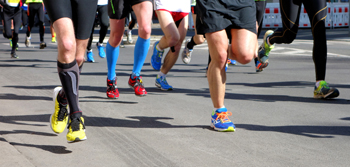 In 1916, The United States Rubber Company introduced Keds, which was the first mass-produced shoe marketed as a "sneaker." In 1978, the founder of Nike, Bill Bowerman, patented his waffle-soled running shoe concept, as this design provided better traction. The use of spikes in sports shoes to increase grip and running speed was introduced in 1890, and this led to the creation of the sports shoe company now known as Reebok.

Innovation and technology has always been the source of evolution in equipment used in sports. Revolution of sports shoes has been going on for the past few years, but only recently has the market been flooded with technology powered sports shoes that are lighter, more efficient and stronger.

Here's a sneak peek into the technology driven sports shoes that are setting new benchmarks: -

Lenovo's Smart Shoe

On 9th June 2016, a smart running shoe was launched at Lenovo's Tech World in San Francisco. Lenovo has designed this shoe in collaboration with outsole maker Vibram. This smart shoe runs on an Intel Curie wearable chip and performs fitness tracker functions, and can also be used as a mobile game controller.

What this shoe can do?

1. The shoe can count your steps and track burned calories
2. LED lights in the shoe sole light up and also synchronize with music
3. It has a customizable 3D-printed insole
4. It can be charged wirelessly by placing it on a shoe-sized charging panel
5. An amazing feature of this shoe is that you can pair this up with an endless runner-style mobile game

BMW Laceless Shoes- X-Cat DISC

BMW has designed a revolutionary range of laceless running shoes that use automotive technology! Designworks, a BMW group company, has partnered with Puma to design this innovative running shoe called X-Cat DISC.


Amazing features of this shoe:

1. Façade of the shoe is made of GINA material which is flexible, ergonomic and lightweight. This helps the shoe to wrap comfortably around the feet.
2. These shoes have rotating discs in place of laces. The rotating discs can be used to pull internal wires that close and open the shoes.
3. The intricate sole design provides engineered flexibility and interlinked stability.


Zhor Sports Tech - Smartshoe 001

Zhor Tech Sports is a French company that designs smart shoes with the mission to pioneer the future of footwear. It has launched a smart pair of sneakers that connects to a smartphone, and can automatically tighten around your feet, much like the 'Back to the Future's self-lacing shoes.


What Smartshoe 001 can do?


1. They perform fitness track functions such as tracking your steps and calories burned. It works with an Android or iOS app over Bluetooth to track this activity.
2. These shoes also measure shock absorption.
3. The best feature of this shoe is that it keeps your feet warm. And you can even adjust the temperature of both the left and right shoe.


Enko Running Shoe

Enko has patented spring-loaded technology with its smart running shoes. These shoes can adjust to your weight and steps, and works to improve performance and protect against common injuries.


Standout features of this spring-loaded shoe are:


1. This shoe has shock-absorbing springs to provide comfort and power.
2. The springs are customized based on a wearer's weight and the can also be interchanged.
3. The shoe is provided with a lever to switch between running and walking positions.
4. This smart sneaker protects the runner from the most common injuries
5. Made from high-quality aluminum and titanium, this feather light shoe weighs around 13 ounces


Nike's self-tying shoes- Nike HyperAdapt 1.0 sneakers

Nike launched 'Self-tying shoes' this year on March 28, which come with an innovative self-lacing technology. It's called the HyperAdapt 1.0, and will be rolled out in select Nike locations on November 28.


What's so special about these shoes?


1. No laces! Instead, it has embedded actuators with pressure monitors which helps conforms the shoe's cushion to your foot's shape.
2. When the foot heel hits the shoe sensor, the shoe automatically tightens. You can also fine-tune the shoe's settings on the fly.
3. The shoe is also provided with two buttons on the side to tighten and loose.
4. A glowing light on the shoe's underside indicates its charge level.

Also See: Sports Shoes, Running Shoe, X Cat, Tying Shoes, Sports, Shoes, Shoe



How To Draw A Car Fast & Easy

Learn how to draw a car using our step by step tutorials. Sports cars, classic cars, imaginary cars - we will show you how to draw them like the pros.