IR Asphere Lenses
Posted by Ningliu on May 4th, 2017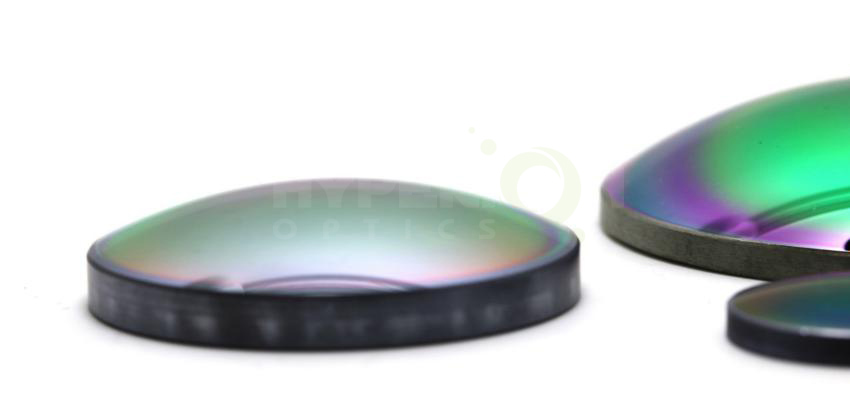 At Hyperion Optics, we work with various infrared materials. Besides spherical parts, with increasing demand of IR aspheric components, designers are more likely to use aspheric parts in LIRP projects to meet relatively reliable performance meanwhile to decrease the element quantity within the system. Our aspheric component manufacturing capability covers 0.8 micron up to 12 micron for your infrared application from combination of materials needed in order to achieve your application expectation.
Equipped with Ametek single-point diamond turning device, Hyperion Optics is able to process following infrared and UV materials as aspheric components: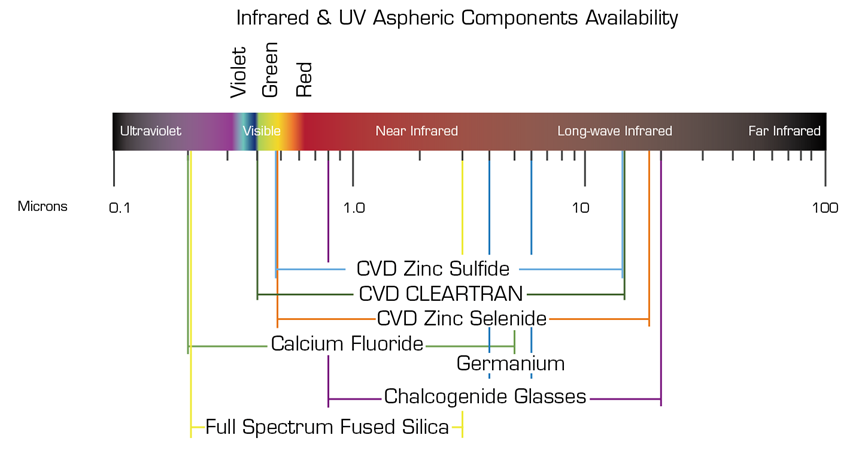 Zinc Sulfide (CVD CLEARTRAN available) , Zinc Selenide , Germanium , Chalcogenide glasses (Available both Schott and NHG IRG materials) , Calcium fluoride , Silicon.
Please contact our experienced engineers for performance consultation and drawing assessment.
We promise there is no extra investment on tooling and processing fixtures for sphere substrates and preparation, contributes customers a quick and productive start to the schedule. Hyperion Optics values every single opportunity offered by customers; our typical MOQ is two pieces for optical performance approval purpose at customers' end; Our fast asphere prototyping has become one of our most popular services for customer low ratio initial production LRIP projects. We can process both sphere and asphere parts at the same time for customer's objective or eyepiece design, which secures a reliable timeline management to meet LRIP tight timing requirement. Meanwhile, we also provide coating package with competitive pricing serving this rapid prototyping concept.
Our rapid aspheric prototyping / LRIP service in SWIR MWIR and LWIR including:
1.Built to print, Hyperion Optics fabricates aspheric lens and provides inspection report by your print.
2.There is a lack of using at Chalcogenide materials in the industry. At Hyperion Optics, the combination between Chalcogenide glasses and regular IR materials could provide cost effective solution with fine superior performance.
3.Reverse engineering based on samples you provide, Hyperion Optics runs in-depth mapping and optical performance testing on either aspheric lens part or lens system level products, redesign and optimize including manufacturing and assembly.
4.For SWIR prototyping projects, we use pressing technique for Schott and Ohara brand glasses manufacturing at prototyping quantity, which dramatically save on your material investment rather than oversea raw material purchase.
Manufacturing Limits for Aspheric Surfaces For IR Materials

Based on Form Error Tolerance

Form Error 0.5 – 2μm Higher Resolution Profilometry (2-D)1

Attribute

Minimum

Maximum

Diameter (mm)3

3

80

Local Radius (mm)

-12 (Concave)

∞

Sag (mm)

0

252

Departure (mm)

0.01

20

Included Angle (°)

0

150

Form Error < 0.5μm Interferometry with Stitching (3-D)

Attribute

Minimum

Maximum

Diameter (mm)3

3

80

Local Radius (mm)

-13 (Concave)

∞

Sag (mm)

0

252,4

Departure (mm)

0.002

1

Included Angle (°)

0

120+5
Talk to one of our optical engineers, to understand how Hyperion Optics can work with you for your developing IR application today to find out the best solution.