Anamorphic Lenses
Posted by Ningliu on May 13th, 2017
Hyperion Optics specialized in custom anamorphic lenses design and production. We have been customizing unique applications such as projection and anamorphic photography. Generally speaking, these lenses are special tools that affect the aspect ratios and get projected onto the camera sensor.
Compared to spherical lenses, which are common and project images onto the sensor without causing aspect ratio change, anamorphic lenses compressing along the longer dimension, which require subsequent stretching, in post-production or at the projector to be properly displayed.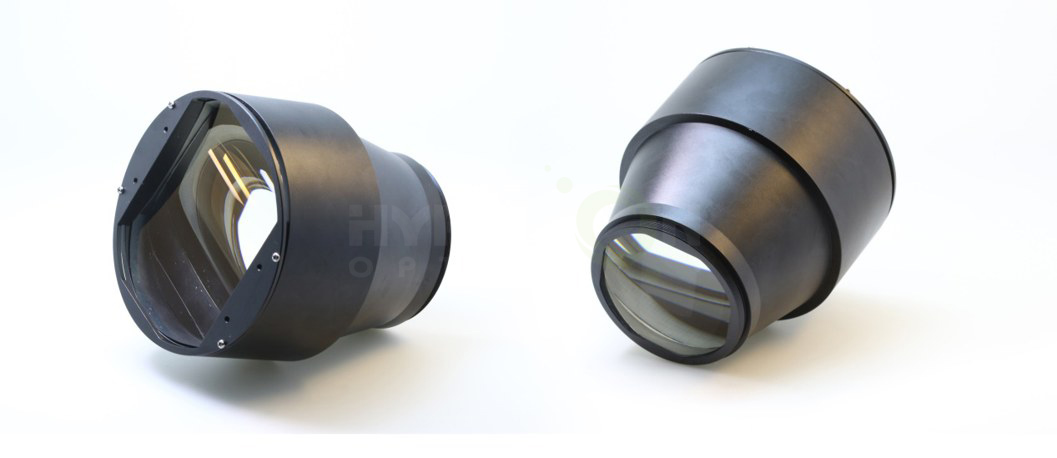 With our high quality achromatic cylindrical lenses production capability, we are able to meet the most demanding anamorphic design performance, please refer to our cylindrical lens fabrication capability. To note, in some cases, custom design achromatic cylindrical lenses are extremely thick in CT, we are able to cement singlet parts on real time alignment device to avoid thickness unavailability of certain materials.
Here is a great sample that how anamorphic projection lenses can contribute:

We begin with a cinemascope screen. Here we're displaying a 2.35 or 2.40 film, Note the black bars top and bottom.

The first step is to electronically stretch the image vertically. This is either called 'vertical stretch' or 'zoom' or 'anamorphic mode'. This feature can be found many projectors and Blu Ray players. We have taken the active illuminated pixels in the black bars and scaled them back into the image. This process increases the overall on screen luminance or brightness. Once vertically stretched, everything on screen looks tall and skinny- compare the image below with the image above.

The final step is the optical expansion of the vertically stretched image to restore the geometry and to fill the entire cinemascope screen with active image. The result here is an image that is 78% larger than the original- Now compare top and bottom images.
Highlights of Hyperion Optics' anamorphic design
Expected aspect ratio control
Sharp image quality, MTF can be tested according to requirement
Excellent achromatic feature
Design fit for 2.35, 2.39 and 2.4 aspect ratio
Theatrical cinema projection design available