Optical Design & Assembly
Posted by Ningliu on May 15th, 2017
With more than over 40+ custom design projects ongoing every year from prototyping to mass production scale, Hyperion Optics has helped our customers to make their design alive across various industries. Our standard optical design service covers feasibility research, design specs verification, preliminary design and analysis, till prototyping to volume production.
We are comfortable with LRIP (Low ratio initial production) projects, which sometimes even harder for most optical companies that by given a low start quantity on the purpose of concept approval or actual low usage. Our typical LRIP projects take 1-2 weeks for preliminary design development and review with customer, another 4-6 weeks for prototyping and assembly, further 1 week for testing. Hence, it takes only 7-8 weeks to bring your design alive. With our reliable manufacturing capability and experience, our design is highly DFM (Design for Manufacturing) driven, which ensure your expectation is reachable.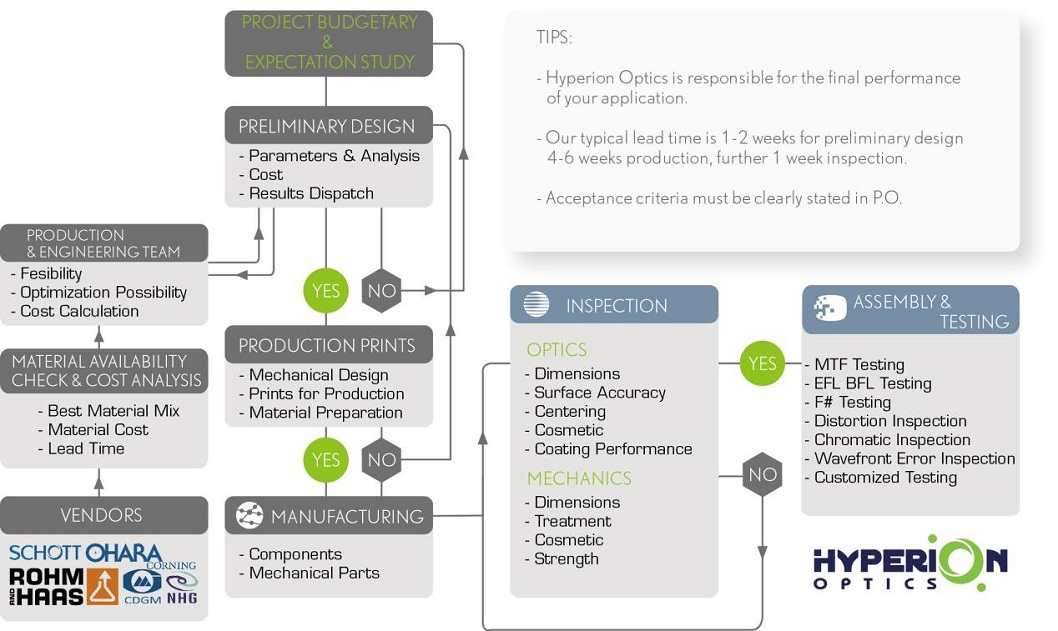 Standard Optical Design Flow Chart
In addition, as you have already known Hyperion Optics is fully capable of producing various types of components from lenses to complicated aspherical surfaces through VIS to LWIR, make sure that you do not need to procure from different vendors but dependable delivery under a solid and reliable QA system of Hyperion Optics' own which also in accordance with ISO: 9001. We are comfortable to provide DOE, Aspherical surface range from optical glasses Schott/Ohara/CDGM/NHG to IR material such as Chalcogenide glass and Zinc Selenide involved system. Details please refer to our IR and high precision optical components manufacturing capability.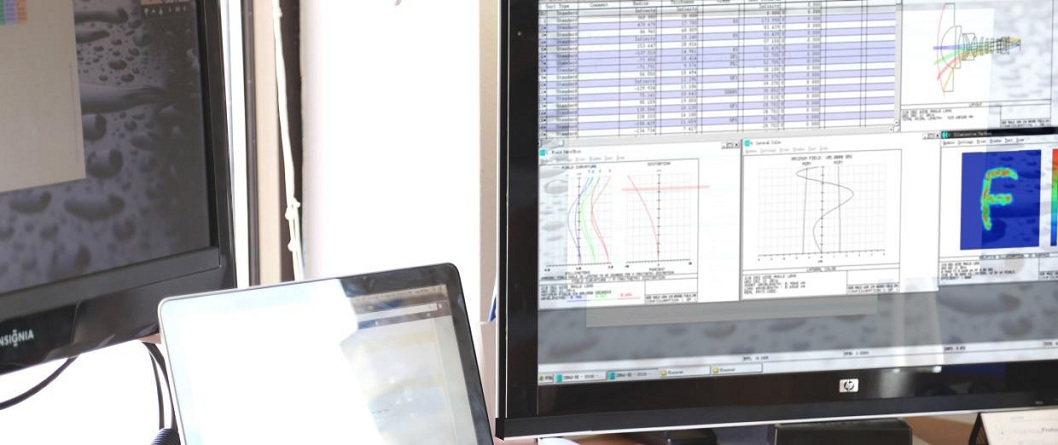 We share the most update glass catalog and refractive index data from both CDGM and NHG to our customer, actual tested refractive index through VIS up to 2500 nm per various materials also can be provided upon request at your design stage, if it comes down to a custom components project. Our Engineers are more than happy to research on the material feasibility and availability from our resources. Along with our full support from production perspective such as manufacturing tolerance and accuracy definition process, which helps a lot of customer to create the most cost effective system without over spec on the components, which also secure a success in the first run.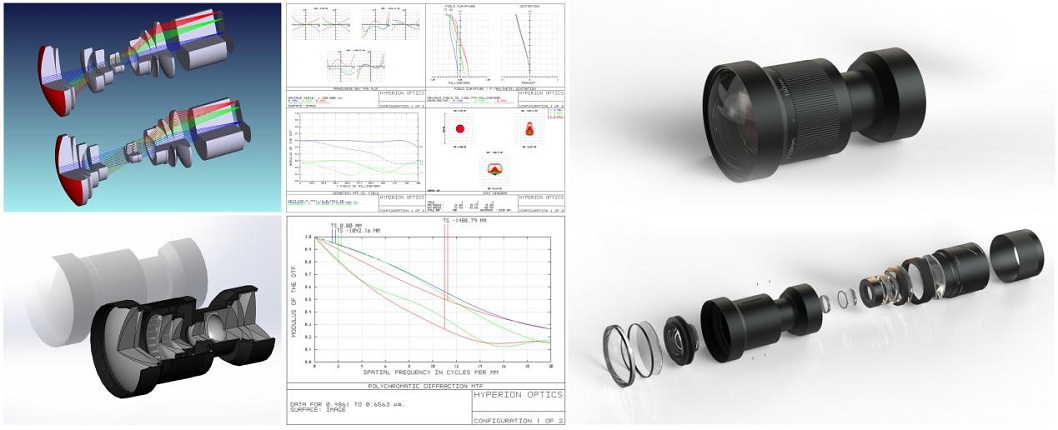 On the other hand, we also welcome customers who need full support from Hyperion Optics' design department to offer a comprehensive service including optical design, optical engineering, mechanical design, manufacturing and assembly. With research and study of your current application, our solution will be surely embedded perfectly into your system, our 15 people's optical/engineering team stand behind your application 100%. Further design adjustment and optimization also is applicable according to your actual usage.
Our second to none optical design service offers:
-Free design consultation: we offer free preliminary design result for your concept feasibility study, Pragmatic suggestions will be provided.
-Material recommendation, with our decade's experiences of working with major glass vendors, we always come up with the most cost effective and reliable material mix and solution.
-Parameters analysis upon special request. Customers have the best understanding of their own system and application, we are more than happy to run additional simulations and analysis per customer's unique interests during design stage.
-Strict quality control for design project. We developed a special project based QA team for design projects exclusively, which consists of the top inspectors and engineers who are qualified for solving the most complicated problems during prototyping and assembly till inspection. Led directly by both head of engineering and QA.
-Custom inspection requirement. We understand that each program has its own unique acceptance criteria; Hyperion Optics is willing to work with customer to develop the most suitable inspection methods and invest what is necessary based on our current metrology setup.
Contact our English/French speaking optical engineers today, and find out what we can help with your project.