Lead Acid Battery Market to reach US$ 31,708.4 Mn by 2020
Posted by Monica Nerkar on May 23rd, 2017
Target Regions (Asia Pacific, Japan, Middle East & Africa and Latin America) Lead Acid Battery Market Overview
Target Regions lead acid battery market is projected to reach US$ 31,708.4 Million by 2020 at an estimated CAGR of 4.6% during the forecast period. Lead acid battery is one among the oldest known commercial battery known to the industry. It utilises lead electrodes and sulphuric acid as electrolyte to store electrical energy. Unique selling propositions of lead acid battery include reliability, relatively low maintenance cost than other batteries, low charging time and durability. Automotive industry is one among the largest end user of lead acid battery across the globe. Some of the technical limitations such as low energy density and weight of the battery offer little resistance towards growth of this market.
Application Overview
On the basis of applications the market is segmented as transportation, stationary industrial, motive industrial, commercial, residential and grid storage. Transportation and stationary industrial segments collectively contributed to about around 82.4% of market revenues in 2014. Stationary industrial application segment is identified as one of the fastest growing market during the forecast period with CAGR of 8.5%. Though, grid storage as of 2013 accounts for miniscule share in the market, it is projected to grow at a healthy CAGR of 7.2% during the forecast period.
Request Report Sample@ http://www.futuremarketinsights.com/reports/sample/rep-gb-430
Regional Overview
In of 2014, Asia Pacific dominated the market and accounted for around 63.2% of the target regions market, followed by Latin America and Japan. In 2014, Asia Pacific lead acid battery market was valued at US$ 15,297 Million, which is projected to reach US$ 19,880.9 Million by 2020. In 2014, Latin America and Japan were the other major contributors to the target regions market; the contribution from these regions was 14.4% and 14.1% respectively. Though, Middle East & Africa accounted for miniscule share in the target regions market, it is expected to register a CAGR of 4.9% during the forecast period.
Drivers and Trends
Lead acid batteries are one of the predominantly used batteries in automobiles such as passenger cars, commercial cars and motorcycles. The rapid urbanization and industrialization trend in various developing countries across the globe is one among the chief drivers of lead acid battery market. Increasing requirement of uninterrupted power supply in industries, corporate offices, hospitals, research institutions, educational institutes and houses further add to demand of these batteries. Implementation of smart grid projects, deployment of vehicle charging infrastructure, increasing usage of hybrid and electric vehicles, increasing installation of renewable energy systems and increasing span of telecom towers are some of the underlying demand drivers for lead acid battery across the globe.
Send An Enquiry@ http://www.futuremarketinsights.com/askus/rep-gb-430
Regulations
Lead is an essential raw material used in the manufacturing of lead acid batteries. The lead prices account for approximately 49% of the overall cost of the lead acid batteries produced. Any fluctuations in the lead prices affect the overall profitability of lead acid battery manufacturers.
The report profiles the key strategies and financial outlook of Johnson Controls INC, Exide Technologies, GS Yuasa Corporation, Yokohama Industries and Enersys. The market is highly fragmented with the existence of small players along with the big players. In coming years, due to high production of automotive and need of reliable power APAC is expected to continue its dominance in the target regions lead acid battery market.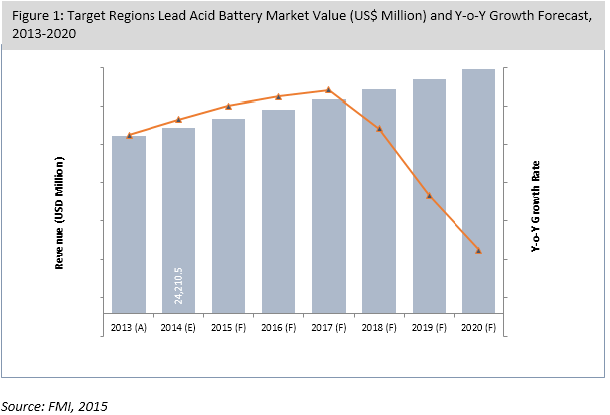 Browse Full Report@ http://www.futuremarketinsights.com/reports/lead-acid-battery-market