Brooks Variable Area Flow Meter
Posted by jsbsheng on June 19th, 2017
Overview of Variable Area Flow Meter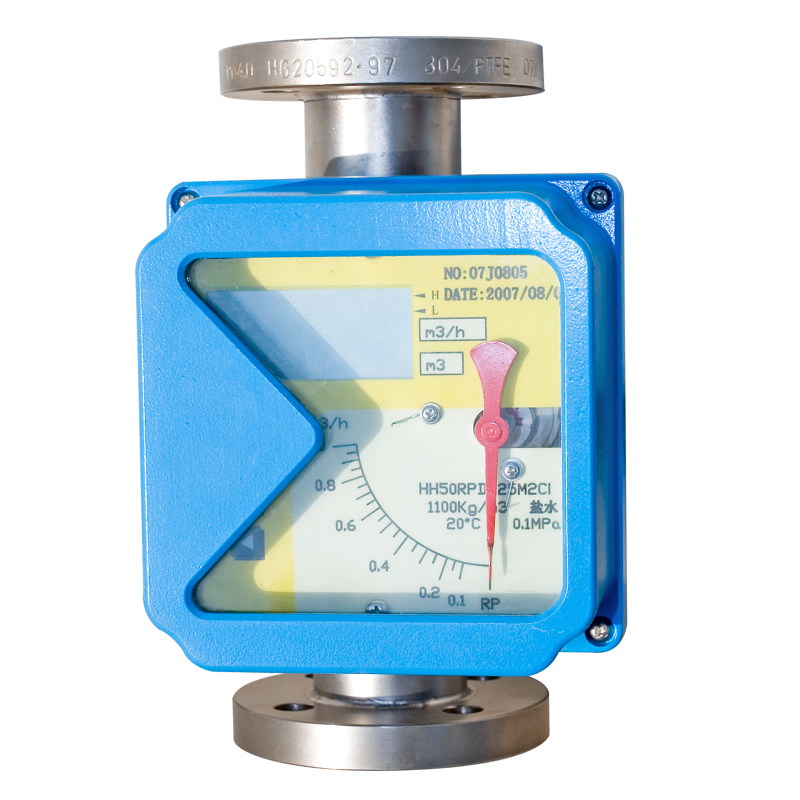 HH5 series
brooks variable area flow meter
(also known as rotameter) is a kind of measuring meter which the flow rate is changing along with the area and is widely used in the process control of industrial automation with metal tube. Metal tube variable area flow meter has the merit of little volume, broad measuring range and convenience for use. Rotameter variable area flow meter can be used to measure liquid, gas and vapor flow especially fits for the flow rate measurement of low flow velocity and little flow rate (low flow rotameter). We are a China metal tube rotameter manufacturer to provide cheap rotameter flow meter
HH5 series variable area rotameter has local indicator to display the instant flow which is normally accepted as flow indicator rotameter , but we also have rotameter with transmitter to have 4-20mA output or switch output, it is digital rotameter with LCD display to show instant/totalized flow. Our
metal tube flow meter
employs advanced microprocessing central chip and high-quality industrialized components of Motorola Corporation to ensure the good performances of
flow meter
in many application fields.
For many years variable area flow meter are well received by many industries such as petrochemical, steel and iron, electric power, metallurgy, light industry, food, pharmacy and water processing.
Custom rotameter according to customers's specifications, we can make horizontal rotameter, thread connection rotameter, high temperature type rotameter.etc.
Firm work, little maintenance and long life metal tube rotameter
Low requirements to straight pipe part for metal tube variable area flow meter installation.
Broader ratio of flow rate 10:1
Two-wire LCD indicator; instant/accumulated display of flow rate are available; backlight option.
Single axis and sensitive display
Rotation of non-contact magnetic coupling
Can be applied to hazardous occasions such as flammable and explosive ones
All-metal structure, fit for high temperature, high pressure and mediums with strong erosion.
Power supply such as two-wire system, battery, alternating current option
Multi-parameters calibration function
Function of date recovery, date copy and power-off protection
Variable Area Flow Meter Technical Data
Code

Measuring tube structure

50

Low in and Top out direction; verticalmounting

51

Top in and low out; verticalmounting

52

Side in and side out; Side-Sidemounting

53

Low in and Top horizontally out; Bottom-sidemounting

54

Low in and Top out ; Screwmounting

56R

Right in and left out ;horizontal mounting

56L

Left in and right out ; horizontal mounting

Code

VariableArea flowmeter Tube Diameter

15

DN15

25

DN25

50

DN50

80

DN80

100

DN100

150

DN150

200

DN200

Code

Measuring Media

L

Liquid

G

Gas

Code

AreaFlow meter Indicator Options

M1

Local indication, square shell body, mechanical pointer displaying instant flow rate

M2

Power supply type square shell body, mechanical pointer displays instant flow rate, LCD display of instant/accumulated flow rate

M3

Power supply type round shell body, no mechanical pointer indicates, LCD display of instant/accumulated flow rate

Code

Power supply

A

No power supply, Only for M1 indicator

B

220VAC 50Hz power supply,4-20mA signal output, back light allowed

C

Battery power supply, no signal output

D

24VDC two wire power supply, 4-20mA signal output, no back light

E

24VDC three–or-four-wire power supply, 4-20mA signal output, back light allowed

Code

Alarm or pulse output

K1

No alarm or pulse output

K2

Upper-limit alarm or one-way pulse output

K3

Lower-limit alarm or one-way pulse output

K4

Upper-limit or Lower-limit alarm or two-way pulse output

Code

Explosion-proof

X

non-explosion-proof

1

Intrinsically safe iaII CT5 square shell body

d

Explosion separation type dII BT4 round shell body

Code

Wetted Parts material

R0

SS316

R1

SS304

Rp

PTFE

Ti

Titanium alloy

RL

316L

Code

Accessory *

X

None

T

Clamped type(only HH-51, HH-52, HH-53R, HH-53L)

Z

Damping type

G

High temperature type

Y

High pressure type