What is 4K for Digital Cinema?
Posted by Satyam Raj on July 21st, 2017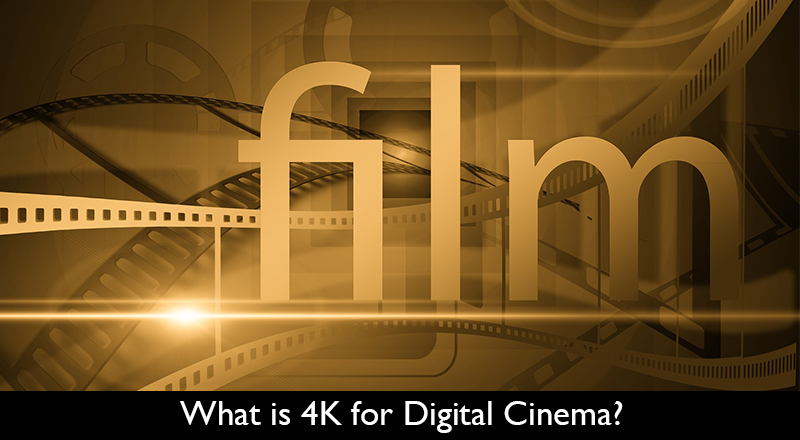 If you've watched any of the high grade movies off late, chances are that you've been watching a 4K digital movie. The Hobbit and Avatar are two such movies that readily come to mind and they must have given you the thrill of your life due to their sharpness and detail, not to mention the stories themselves which were more than above par. So what exactly is 4K? Let's examine in detail :
What is digital cinema?
Digital cinema means using digital tech to either distribute or project motion pictures (animated or non-animated) in contrast to using the traditional 35 mm film reels. The old reels had to be shipped from production houses to the movie theatres. But digital movies can be distributed in a variety of ways; via satellites, through the internet, or by using storage devices like hard drives, DVD's and Blu-ray discs. However there's a difference between digital cinema and 4K digital cinema.
The difference :
You must have seen high definition television. These shows on TV use 2K resolution which means a horizontal count of 2048 X 1080 i.e. 2.2 megapixels. When you see a 4K movie in theatres, you're treated to an immersive experience of 4096 X 2160 megapixels. And that's a whopping pixel count.
4K resolution :
When we speak of 4K resolution, it has to have a horizontal pixel count of at least 4000 pixels. There are a whole bunch of 4K resolutionsavailable and you can find them everywhere. For example,Digital Cinema Initiatives or DCI is dominant in the field of film making, while for consumer shows and television, the standard is normally 4K UHD or UHD-1.
Negative scanning and its positive side :
When you have your film ready and ready to be scanned, it's always preferable to go in for negative scanning. When you film negative scanning, the benefits are enormous. Firstly, scanning the negatives will yield you a greater part of the actual image that you shot on your film camera because the question of cropping does not arise. You can check out the difference by sending in your film to us for 4K negative scanning. The results will let you judge with your own eyes the level of detail and colour that 4K negative scanning yields. This is the second difference between traditional film scanning and 4K negative scanning.
Traditional film scanning versus 4K film scanning :
When you've put in your blood, sweat and tears (not to mention valuable time) into a film that could make or break you, it makes better sense to go for 4K digital scanning. The film will digitize better at 4K than at 2K. And you'll have the benefit of timelessness to the film which generations after you can watch in enjoyment due to high detail and colour. Trust me; the younger lot will not settle for anything less than 4K as it is the benchmark of a good movie nowadays.
So even if you have shot your movie or show on 35mm film, it can be safely converted to 4K with the help of our Blackmagic Cintel Scanning machine. Give us a call or visit our website and we'll set things up for you.