Scientific Stability Chambers Eases High Standard Pharmaceutical Requirements
Posted by Rusty Nelson on December 5th, 2017
If you've heard the term 'Scientific Chamber' for the first time, then start off by knowing what exactly do they do. Stability chambers are specifically used in the pharmaceutical industry to test and store a wide range of products in a specific/specified temperature in/or humidity conditions while living and abiding by the set regulatory standards. A customer's point of view is a valid measure to understand the crucial role they play. Customers always count on your products and expect the same to be 100% reliable, safe and free of any chemical reaction.
Stability test chambers are designed explicitly for steady state, accelerated aging, shelf-life testing, expiration date testing and more. They are conveniently designed to meet a variety of ASTM standards, such as the ASTM F1980, ICH Q1A FDA stability testing guidelines, and more to carry out robust tests and findings from time to time.
Scientific Chambers in Pharmaceutical Industry, today are vital to global healthcare and is one contentious business to deal with. Moreover bringing together an able-class of members of the chamber, with vast knowledge, expertise, and experience in advising and acting for leaders in the Pharmaceutical industry, helps people to procure products that are essential in improving the overall health statistics of the world.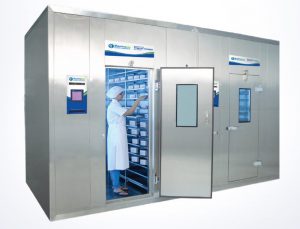 A lot said about the Scientific chambers, further let us discuss the key areas or features that enable the chambers to be fruitful and beneficial for the Pharmaceutical industry against deadly and new-found diseases;
The Chambers are pre-fabricated double walled modular panels with PUF insulation
The Insides are entirely stainless steel, while the outside is GI pre-coated or stainless steel
The Floor panels have extra reinforcement to sustain any movement and sample load the chamber
A multi-pane vacuum sealed observation glass window
Heavy-duty door hinges and latches to maintain a secure and uniform seal
Racks and trays made up of stainless steel
Interior illumination for sense of sight
Wire air heaters
PLC control system with touch-screen display
Chilled water circulation
Smart Air distribution system
Efficient Water management system
Safety & Alarm system
Apart from the features mentioned above, the chambers hold some more proficient qualities that include:
The presence of an automated process control feature, and efficiency in saving energy (almost 65% of the power capacity), water (95% saving in the humidity system), and without any risk of catching fire, since it is 100% flame-proof.
Avail the best 'scientific chambers' for exceptional control and uniformity of both temperature and humidity.