Reasons to Go on a Vacation to Iceland
Posted by Veena World Tour & Travels on August 3rd, 2018
Iceland is a well-known haven of natural beauty that has much to offer tourists and visitors from every part of the world. From active volcanoes and geothermal springs to awe-inspiring glaciers, there are few natural wonders that cannot be found in this gorgeous island nation. The capital city of Reykjavik is both lively and dynamic.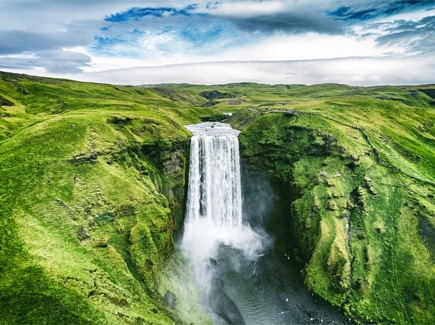 Views of the mountains and the sea enhance the beauty of the capital and make it an important destination for travelers. Iceland is a country that shines in every season, illuminated as it is by the Northern Lights in the winters and the midnight sun during summertime. A visit to Iceland will offer you a travel experience that is unlike any other place on earth.
Places to Visit in Iceland
Blue Lagoon: It is located on the Reykjanes peninsula, which is less than an hour's drive away from the capital. One of Iceland's most popular travel destinations, the Blue Lagoon is a manmade lake that is fed by superheated seawater released from a lava flow located nearby. The water is believed to have medicinal properties and tourists can soak and relax in the steaming waters of the lake, surrounded by black lava rocks.
Vatnajökull National Park: This Park is huge and is home to the largest glacier in the continent of Europe. Skaftafell is one of the most popular territories or areas of the park, where you can see glacial tongues and cascading waterfalls that are a serene, sky-blue in color. Experienced adventurers sometimes climb the Vatnajökull glacier to explore the volcanic craters known as Lakagígar.
Golden Circle Route: This is the region that lies to the east of Reykjavik. It boasts of historic monuments, significant sites, and quaint villages. Many travel agencies offer exclusive excursions and tours of the area. You can also find waterfalls and geysers while traveling along this route. However, the most popular feature of this area is indubitably Gullfoss, which is where the giant Golden Falls meet the Hvita river canyon.
Although people from the world over throng to Iceland to explore its natural bounties, certain travel magazines have highlighted the fact that there has been a marked increase in the number of Indians traveling to Iceland, especially from the time between September to March as that is the best time to witness the Northern Lights. In keeping with this trend, travel, and tourism companies have also come up with exciting Iceland holiday packages from India and reports suggest that the companies are seeing an overwhelming response on these.
If you too are on the look-out for the best Iceland holiday packages from India at competitive prices, you must get in touch with IATA approved travel agencies to get the best deals.