The custom-body bobblehead doll is sculpted by hand to meet your specifications. You can have us match the pose, clothing and accessories for the body either from a photograph or a detailed description.
Either provide pictures of the body style you would like or describe it in the Special Instructions box on the Order Form.
Generally, we need at least 2 good quality and clear photographs of the individual needed to be sculpted on the bobbleheads – 1 front-view and 1 side-view.
The output of the bobbleheads depends on the quality of the photograph. Therefore, we always recommend that the photograph should have a smiling face or with some unique facial expression. We strongly advise against sending us wedding photos or artistic photos that use soft lenses, but lack in facial details.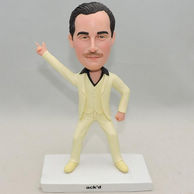 Man bobblehead in light yellow suit with double-fold eyelids.09
The photograph more realistic , the bobble head more like you in real.

Top Searches - Trending Searches - New Articles - Top Articles - Trending Articles - Featured Articles - Top Members

Copyright © 2020 Uberant.com

704,357 total articles and counting.