Get Value of Your Money with L&T India Value Fund
Posted by Dishika Baheti on August 22nd, 2018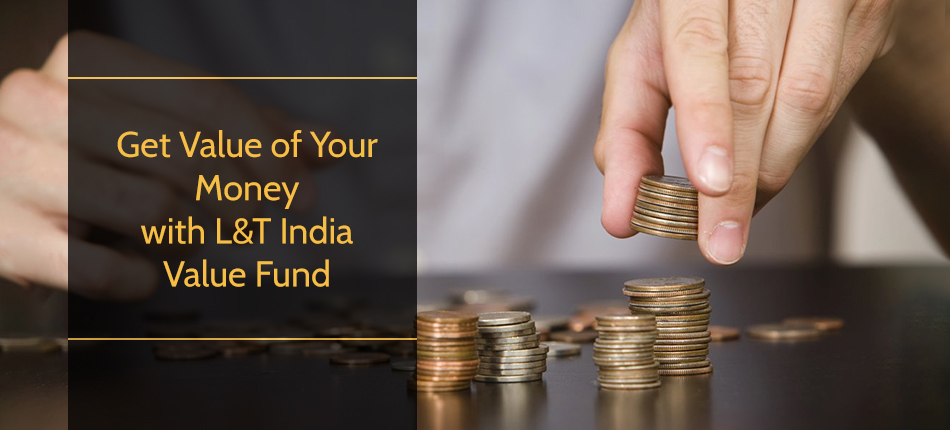 L&T Financial Services with the vision to be an admirable, sustainable, and inspirational institution is providing various schemes to investors via L&T Mutual Fund. L&T India Value Fund is one of the many schemes that it launched on January 08th, 2010. Value funds are those funds that invest in stocks that are available in the market at a price lower than their actual price. In this article, you will read about what this fund has to offer to the investors.
The Objective Behind L&T India Value Fund G
The investment objective of L&T India Value Fund is to generate long-term capital appreciation by investing in the equity and equity related instruments of companies that are under valued in the current scenario compared to their actual price. This scheme may also invest in the foreign securities available in the international market. This scheme aims to invest around 80% to 100% in equity, up to 20% in debt, and up to 10% in foreign securities.
What's in L&T India Value Fund Growth for Investors?
This scheme helps investors get benefit from the investment in undervalued securities that usually yield reasonable returns. Those who wish to invest their money for long tenure may invest in it as it allocates the assets mostly in equity.
Since, this scheme has invested 36.12% in giant-cap and 15.21% in large-cap, it is a good scheme to invest in, considering the correction phase going on in the equity market.
Return-Wise
As investment market is full of changes, it is difficult to say whether the performance of a particular scheme will be retained year over year or will showcase frequent fluctuations. No wonder the previous year's performance does provide a base, consulting which decision may be taken. As on August 14th, 2018, the three year returns that this scheme has yielded is 12.89% and five year returns is 26.94% which is better compared to its category and benchmark NIFTY 100 TRI. Investors whom this rate of return suits may invest in it.
Risk-Wise
The risk involved in this scheme is based on the assets it invests in and the ratio in which they are selected. Equity and foreign securities' investment involves medium to high risk and investment in debt involves low to medium risk. Keeping in mind its overall asset allocation, it involves moderately high risk on the principal amount that is invested in this scheme. Investors who are aggressive in nature or who may bear this kind of risk may invest in L&T India Value Fund Growth. The sharpe ratio as on July 31st, 2018 was 0.42% which means that the returns will be higher by this much percentage after risk. This ratio has been calculated on the basis of the calendar month returns of the last three years.
Points to Ponder Before Investment
Mutual funds are always subject to market risk, therefore investors should make sure that the scheme is in sync with the requirement of their investment portfolio. In case of any doubt, do not hesitate to consult a financial advisor. The minimum investment amount with which you may start investing in this scheme is Rs. 5000 per application for first time investors. For existing investors, this amount is Rs. 1000 per application. No entry load is to paid while making an investment in this scheme. However, if you redeem the units within one year of investment, then you will be liable to pay 1% of the applicable L&T India Value Fund NAV as exit load. After completion of one year, no amount will be charged as exit load.
This was all about L&T India Value Fund, invest in this scheme and earn the time value of your money.