Find the Anderson Products You Need at G4G Guns
Posted by johnhrq on March 29th, 2019
Sportsmen, tactical practitioners, and shooters of all types need reliable sellers and shops on which they can rely to keep stock of the equipment and the parts on which their equipment depends to function properly. In many cases, a sporting or tactical application calls for the most precisely manufactured or compatible components. That's why when you know you need Anderson Products, whether it's a tactical platform, a rifle, or simply a spare or replacement barrel, you can trust in G4G Guns to have what you need. Anderson manufacturing makes some of the finest sporting and tactical rifles and platforms on the market today, chambered in popular calibers, not only for their ubiquity but for their versatility. Featuring rifles chambered in 9mm, .308 Winchester, 5.56 NATO, .223 Remington and others renowned for their versatility as defense, hunting, and competition cartridges, Anderson brings platforms to the table that are capable of accepting modifications to nearly any purpose.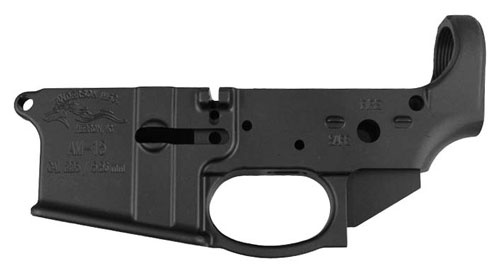 Among their popular models is the Anderson AM15 capable of chambering both .223 Remington and 5.56 NATO ammunition. It comes with a chrome molybdenum vanadium steel barrel with 1:8 twist, excellent for tight spin and accuracy from the fast flying, flat shooting rounds it handles. The ultimate in customizability to the shooter, the stock has six positions and the model comes with a rail that extends behind and in front of the forend for mounting optics, lasers, lights, or other tactical accoutrements. The firearm sports RF85 coating which reduces friction and action speed, enabling both a faster rate of fire and minimized risk of damage from overheating. With a match grade trigger and 30 round magazine, this firearm is just as at home chasing hogs down south as it is at a 3-gun competition.
Anderson's AM10 Hunter RF85 76966 is another tactical platform geared with field sporting applications in mind. Chambered in hard hitting .308 Winchester, one of the most capable short action cartridges ever engineered, this rifle is capable of taking nearly any North American game, and its semi-automatic, adaptable platform enables rapid follow up shots and user-friendly modification. Its ambidextrous sling mounts enable ease of portage and access in the field and the free-floating handrail prevents barrel torsion and begs to be modified and accessorized. It also features RF85 coating, minimizing friction and action time, which all boils down to more reliable, faster cycling and less maintenance.
However, when you partner with G4G Guns, you won't be limited to completely finished Anderson products. You'll also find all the trappings needed to make your own repairs, modifications, and servicing of your arms such as the AM 308 Upper-Lower Kit. Containing the grips, rails, springs, pins, and detents necessary as spares or for repairs, a frequent shooter needs replacements and spares for quick servicing at the range or in the shop. At G4G Guns you won't just find the equipment but everything you need to keep it in top shape.
The best part is that at G4G Guns you won't just find Anderson products, but nearly any firearm on the market, including handguns, shotguns, and rifles. You'll also find ammunition, firearm accessories, archery tackle, and camping and other outdoor equipment to round out your sporting arsenal, and all in one convenient place. Unlike the big box retailers, G4G Guns is run by people with personal, first-hand experience who are ready to answer your questions about gear and applications. Whether you're shopping for a first handgun for self-defense, a pump scattergun for the pheasant fields or you just need some spare broadheads for next year's early archery season, G4G Guns is your go-to for all your sporting needs. Visit G4GGuns.com today to see what's in store.
For more information about Maglula Products For Sale and Cz 455 Varmint Tacticool Please visit : G4G Guns.