The Benefits of Phosphate Rock Fertilizer
Posted by Radmin on April 24th, 2019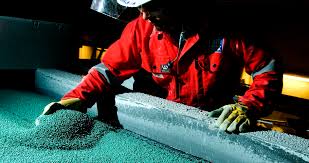 Soil and crops around the world need phosphate rock, a sustainable soft rock fertilizer, added to them. This provides vital nutrients, like calcium and potassium, to plants and improves their fertility and production. Keep reading to learn more about what makes phosphate rock beneficial for plants.
How Phosphate Rock is Produced
Phosphate rock is collected from all over the world at geological deposit sites via surface mining, and sometimes, from underground mines. Phosphate ores are screened and a few impurities are removed at the sites. The main component in phosphate is apatite, a calcium rich mineral extracted mostly from sedimentary rock formed from the mineral remains of marine life that died millions of years ago.
Another way phosphate can be harvested is from clay deposits rich in phosphorus. The majority of Phosphate rock is made into a soluble P (phosphorous) fertilizer, while the rest is applied directly to the soil. More than 90% of phosphate rock gets converted into a sustainable soft rock fertilizer by reacting with acid. Phosphate fertilizers are available in powder or liquid from, and is safe to use around people, pets, and wildlife.
How Phosphate Rock Helps Plants
Phosphate can be added to the surface soil, where the mineral gets broken down by soil bacteria. Adding grass clippings to soil can increase activity of soil bacteria. Once broken down, plants can better absorb the mineral. Plants will absorb the phosphorous over the span of 5 years, depending on soil conditions. Phosphates help keep plants strong and healthy by transferring nitrogen and providing calcium, which are necessary during photosynthesis.
How to Boost Phosphate Effectiveness
Sometimes, the phosphorous in phosphate rock doesn't dissolve quickly enough for some plants. Fortunately, there are several ways to boost the mineral effectiveness. Phosphate needs acidic soil conditions to provide nourishment to plants. Make sure the soil you use has a maximum 5.5 pH. If your soil is doesn't have a high enough pH, adding lime to soil will cause the phosphate will dissolve much slower.
Phosphate will dissolve faster if you use soil that has a high Phosphorous-, or P-fixing content and is low in calcium and high in organic matter. Phosphate rock will react quicker when incorporated by broadcasting and incorporating the mineral via tilling. Plants that excrete organic acids from their roots into the soil are better at utilizing phosphate rock than other plants. Phosphate rock fertilizers can be purchased at your nearest sustainable soft rock fertilizer supplier.