Service dogs Aren't Pets
Posted by Radmin on April 25th, 2019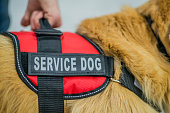 Thousands of people with disabilities struggle to get through what most others consider everyday things. For many the only way to do that is with the help of service animals. These beloved fur babies do important and in some cases life saving work assisting people who struggle with to get through everyday life. These animals are not pets. No they are working animals whose job is vital to their partner. The way they are identified to the population at large is through service dog patches. These patches differ in some ways but all are used to tell others that they are service dogs not pets and they need space to do their job. People should respect the job that these wonderful dogs do each and every day.
These dogs are not simple pets you can pick up at the pound. They are specifically trained to provide assistance for a person with disabilities. They might be called on to perform tasks such as: retrieving, leading, pulling, providing balance and/or alerting. They should also be able to follow basic obedience commands such as sit, stay, here, down and/or follow, as well as exhibit good behavior in public places. These dogs are different from others since they are allowed by the American Disability Act (ADA 2010) to accompany their master anywhere the general public is allowed access. They are allowed in restaurants, grocery stores, malls... etc. etc.
These animals help with many different disabilities. Most are familiar with sight and hearing dogs for the blind and deaf, but some service dogs help people with physiological and psychological disorders such as diabetes, seizures, panic attacks, and PTSD. These dogs can sense physiological changes like a drop in blood sugar. They might also help indicate an oncoming panic attack or be trained to bring a person out of an attack and offer grounding to their master.
These animals are usually identified by wearing vests with service dog patches on them so that other people are aware of their purpose. According to the ADA, this is not required. Some people may choose to not make their service dog wear such things. However, they are still afforded these same rights and rules that govern all service dogs. Business owners, transportation companies and others have to make concessions in order to accommodate people with disabilities who utilize service dogs. These business owners don't have the right to forbid a person with a service dog from entering and establishment or to use public transportation with their service dog. These animals are not pets; they are working dogs and should be respected.