Understanding Flash Dryers and How They Work
Posted by Radmin on April 25th, 2019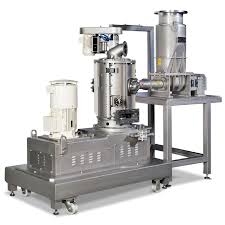 A flash dryer is compact and highly efficient equipment that is ideal for drying wet solids, slurry feed, or filter cakes. This equipment is made of a simple system with a few moving parts and requires short residence time. Safe for heat-sensitive and reactive products, flash dryers are also used for calcining operations. Additionally, they can be designed to operate in an inert atmosphere.
How Flash Dryers Work
Flash dryers operate using a process called flash drying or pneumatic drying. Through this method, flash dryers can produce dry and discrete particles from a filter cake, centrifuge, or slurry feed. This process is commonly used for chemicals, polymers, pigments, ceramics, minerals, and sludge. Flash dryers can also process heat-sensitive materials without being degraded or damaged because of short residence time and evaporative cooling.
Flash dryers are used in a wide range of industries, including food, chemical, pharmaceutical, agriculture, and more. This equipment disperses a wet material into a stream of heated air or gas and conveys it through a drying duct to begin the drying process. The material produced dries as it is conveyed, and the product is separated using cyclones. Bag filters in flash dryers are then used for the final cleaning of the exhaust gases.
Recycling exhaust gases can also be done when using flash dryers to achieve an even greater thermal efficiency that requires inertization. This process can be implemented in all airstream drying systems and tailored to your existing drying equipment and operations. In some cases, greater cooling capacity and a finer degree of control can be achieved in flash dryers by using conditioned air at controlled humidity and temperature.
Why Using Flash Dryers Is a Good Idea
Flash dryers are used by many companies because of their ability to produce a dried product through a simple and reliable cooling and conveying method. Aside from this, flash dryers also offer the following benefits:
They promote excellent product quality.
They enable system integration as well as energy savings.
They're cost-effective because they require low maintenance and minimal cleaning.
They're designed for easy installation and integration to your current equipment.
They can eliminate the need for additional equipment.
They're capable of processing high capacities in a relatively small space.
Understanding the basic features of a pneumatic flash dryer and its drying process can help you decide whether it fits your current operation. This way, you can start planning integration with your existing equipment and maximize its benefits.