Short and Trendy Wedding Dresses For a Chic Look
Posted by Radmin on May 17th, 2019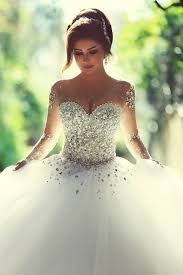 Want to highlight the fun and vivaciousness element of your personality on your wedding day? Short wedding dresses may be the ideal outfit for the modern bride that wants to wear something stylishly contemporary. Your wedding dress need not be a long gown with an infinite trail, short wedding dresses are very in! Ideal for summer and spring weddings, short wedding dresses are great for beach and outdoor weddings. This article tells you about stylish and classy short wedding dresses that will make you look like a million bucks on your big day!
Classy Designs
There's no reason to think that short wedding dresses can't look classy. Modern designs include vintage patterns that make short wedding dresses look very classy. Lace is a timeless material that's also the favorite of designers everywhere to craft gorgeous bridal outfits. Lace is the perfect fabric to add a classy touch to your cocktail or tea length wedding dress. Opt for graphic or intricate lace material to add more elegance to your short wedding dress. Sheer details and classy necklines add more style and grace to short wedding dresses.
Strapless wedding dresses in short designs when styled in lace or satin look very classy and vintage. A sweetheart neckline and an intricately detailed bodice add glamour to your cocktail length dresses, making them look stylish and sophisticated.
Trendy Styles
If you're looking to go all out on contemporary styling for your short wedding dress, opt for designs such as off-shoulder, cold-shoulder, asymmetrical cuts. Off shoulder styles are making a splash across fashion runways, and this is the perfect trend to sport on your wedding day. Short wedding outfits crafted in lace or chiffon look absolutely chic in an off shoulder design.
For the ultimate trendy look, combine a short wedding dress with a cold-shoulder design and a high-low pattern. A high-low dress gives your wedding outfit a flirty feel, while the cold-shoulder pattern ups the fashion quotient.
Sequined Dresses
Cocktail length wedding dresses can be look pretty and intricate when embellished with sequins or pearls. Sequin is a trendy design detail that's being sported by celebrities and fashion models. It's easy to adopt this pretty detailing to your short wedding dress. Opt for embellished material for your entire wedding dress or go in for subtle sequin detailing along the neckline.
Short wedding dresses are the flavor of spring and summer weddings. Shop at Brideside for the trendiest short wedding dress, designed by top fashion designers.