Switching Switch Plates: 3 Great Alternatives to Plastic Switch Covers
Posted by rjgp1 on May 17th, 2019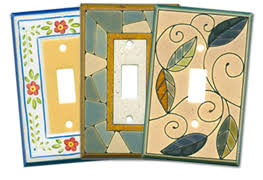 Throughout the country, the most common switch plate covers used in homes are made from hard plastic. This may be because plastic switch covers are cheap, and they can easily be found in most electrical and construction supply stores. But just because they cost less doesn't mean they're the most practical switch cover option.
Plastic covers are prone to discoloration and brittleness over time. Aside from that, they rarely add to the aesthetics of a room, as most plastic switch covers tend to be plain white, which is why it's good to consider using other materials for your home's switch plates. Here are a few practical alternatives to plastic switch covers that add aesthetic value to your room.
Wooden Switch Covers
These switch covers come in many different wood variations, like ash and oak. Each of these variations has a different color and finish. Wooden switch covers add a soft, natural detailing to any space. These would be ideal accents for a cozy wood cabin or a homey living room. Smoother wooden finishes, often in darker solid staining and less defined wood grain, can be used for a more elegant style. These wooden covers are also more durable and long-lasting than plastic plates.
Metal Switch Covers
Metal switch covers are incredibly durable. Different types of metals are used today as switch covers, such as brass, bronze, and stainless steel. These switch covers also vary in finishing, including semi-gloss baked enamel, satin brushed finishing, and even unfinished variations for a more rugged look. Using a metal switch plate cover can give a nice, sleek accent to any wall or an industrial feel to a brick background.
Ceramic Switch Covers
Ceramic switch plate covers have a softer, more elegant look to them. This is because most ceramic covers have rounded edges and sides. These switch covers also come in a wide variety of colors and designs. Ceramic switch covers are often used in kitchens and bathrooms to complement the ceramic tiles surrounding them. Although they're not as durable as metal switch plates, ceramic switch covers are long-lasting. They keep their finish and rarely get discolored, unlike plastic switch plates.

These are just a few examples of good alternatives to plastic switch plate covers. There are a wide variety of materials and designs you can choose from. For more options, go to your local construction supply store.

Also See: Switch Covers, Plastic Switch, Switch Plates, Switch Plate, Switch, Plastic, Covers