How to Register an Emotional Support Dog
Posted by rjgp1 on May 27th, 2019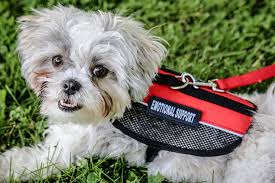 Emotional support dogs are becoming more and more popular as we continue to talk openly and freely about Anxiety, Depression, Post-traumatic Stress Disorder, and other mental illnesses so prevalent in today's society. These dogs provide calm and company for their owners and are often life changing for those whose illnesses effect their everyday functioning and activities. Contrary to popular believe, there is no formal emotional support dog certification program; however, there are steps to take in order to be able to reap the health benefits of having such a faithful and healing companion.
Can Any Dog be an Emotional Support Dog?
Any dog can be an emotional support dog. You don't need a pure breed or a dog with a particular temperament. Of course, you don't want your emotional support dog to cause you additional stress by its incessant barking or inability to get along with other dogs and people. Since your dog will be your companion in highly public places, you want a well-behaved dog who can deal with being around a lot of people, after all, that's usually one of the reasons people seek out emotional support animals –to help them navigate through more social, crowded situations.
How Do I Register My Dog as an Emotional Support Dog?
All you need is a dated and signed letter from a mental health professional such as therapist, clinical social worker, or psychologist that states the following:
That you are a current patient under their care.
That your disability impedes your ability to participate in one or more major life activity.
That having an emotional support dog is part of your treatment.
That you are currently being treated by the mental health professional for a particular mental illness.
Because this is a relatively new process, please check with your mental health professional to make sure the current procedure has not been updated.
Where Can I Bring My Emotional Support Dog?
Once you received your letter from a mental health professional, you can feel comfortable bringing your dog on planes, other forms of public transportation, and into businesses. However, businesses aren't obligated to allow you to do so. Again, it's always a good idea to call ahead to hotels or businesses to confirm their ESA (emotional support animal) policies. Also, with your emotional support animal letter, you can't be denied housing because of an emotional disability. Also, breed restrictions or size limitations do not apply.

Though there is no formal emotional support dog certification required and the process of getting permission to bring your dog with you onto planes and into businesses is relatively simple, you will want to be respectful of where you bring your dog and make sure it is well trained and behaved enough to go relatively unnoticed during your time at a business. Remember, businesses don't have to allow you to bring your emotional support dog through their doors, but by being respectful, perhaps more will extend the courtesy!

Also See: Formal Emotional, Dog Certification, Whose Illnesses, Traumatic Stress, Emotional, Dog, Mental



Classical Sheet Music

Join Music Scores.com for unlimited downloads of all our sheet music and MP3 files. The perfect classical sheet music resource whether you play alone or in a group or ensemble.