Kluay Tod
Kluay Tod is a sweet snack or you can say dessert which is very addictive. The dish brings out the Authentic Thai flavors that will make you feel as if you are sitting in Thailand and enjoying your food. Kluay Tod is basically mini-bananas that are deep fried. The bananas used are only a little ripe as the ripe ones break when you try to deep fry them. These bananas are dipped in a batter made up of the sesame seeds and the coconut. So, after deep frying, the crust is slightly crunchy and golden, while the center of the dish is warm and creamy. These bananas taste amazing when they are freshly fried as well as when they cool off.
Pad Kra Pao
A dish consisting of the minced pork or chicken chunks that are stir-fried with chilies and Thai basils are served along with the rice. If you are a picky eater then forget about this dish. If you are a foodie then this dish is the best dish for you. The Thai basil gives out a sharp and peppery flavor to the rice. The chilies, on the other hand, add a good dose of the spice. If you are someone who cannot handle this much spice then you can tell the vendor to take it down a notch. This dish is best served along with the chunks of chicken and a fully fried egg. Several restaurants serving traditional Thai food in Dubai give you this dish with a fusion of Thai flavors.
The Infamous Thai curry
We are all familiar with this famous Thai curry. The green Thai curry is one of the best dishes that bring out the authentic flavors of Thailand. This curry is a perfect blend of the spice and sour taste. This curry is made with a curry paste and chicken. The thick paste consists of green chilies, shallots, cilantro roots, kaffir lime, lemongrass, herbs, and spices. This paste prepared is then mixed with chicken and coconut milk. This gives the curry a very heavy look and a defining taste. Several Thai restaurants in Dubai serve this Authentic Thai food and you can enjoy the same anywhere you like. One bite and you are off on a trip to Thailand.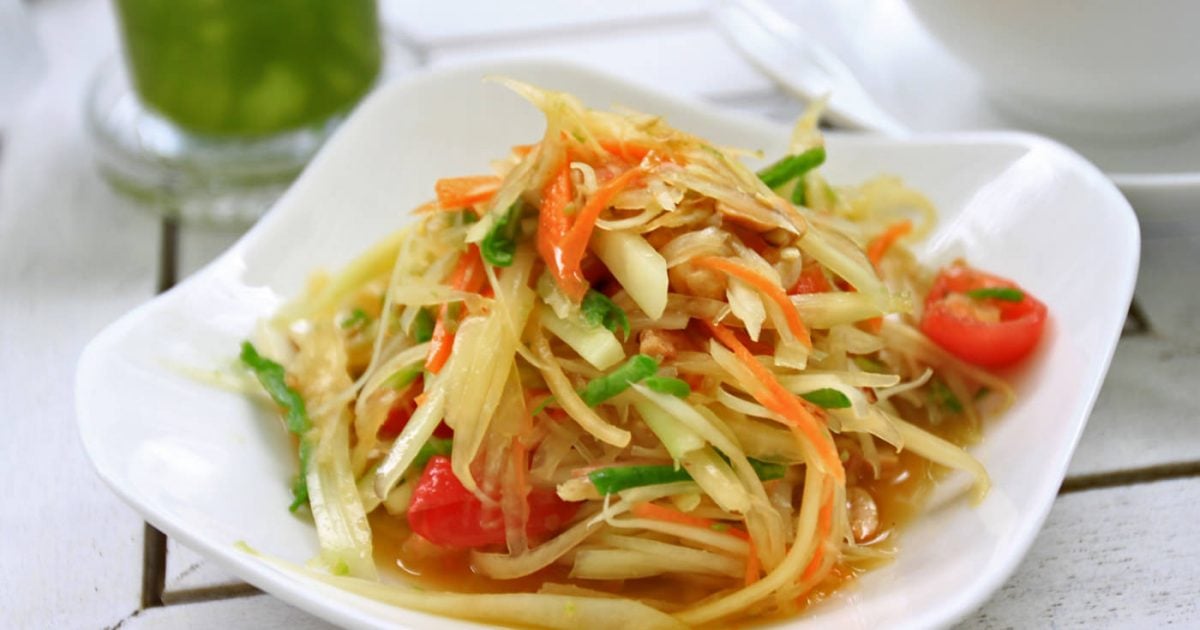 Som Tam
Som tam also is known as the green papaya salad is one of the famous street food in the streets of Thailand. Som Tam comes with a variety of serving styles. The dish of this green papaya salad is basically made of the shredded papaya that is tossed with the cherry tomatoes, chilies, peanuts, carrots, dried shrimp, sugar, fish sauce, lime juice, and garlic. The usage of plenty of chilies makes it difficult for people who eat less spice. If your love for food is hindered by the taste of spices then you can ask the chef to go low on the chilies. There are a number of Thai restaurants like Tuk-Tuk Thai where you will find the best Green Papaya Salad in Dubai.
Khao Kha Moo
Khao Kha moo, unlike its complex Thai name, is a very simple yet very satisfying cuisine among the Thai Street foods. The dish consists of a pork leg that is nicely stewed and served over the rice bowl. The pork leg is properly stewed in the mixture of sugar, soy sauce, and the spices. This makes the pork leg very juicy and tender. This food is easy to find on the street as you can distinguish from the large vessels used to stew the pork leg. If you are weight conscious then you can ask for a non-fatty leg by removing the skin of it. This dish is often served with the boiled egg and Chinese broccoli as sides.
There are many restaurants in Dubai that serve these very tasty dishes. These dishes are the authentic Thai cuisines in Dubai. All you need to do is just hop into a place and order one of these to enjoy the authentic flavors of Thai food.

Top Searches - Trending Searches - New Articles - Top Articles - Trending Articles - Featured Articles - Top Members

Copyright © 2020 Uberant.com

704,625 total articles and counting.