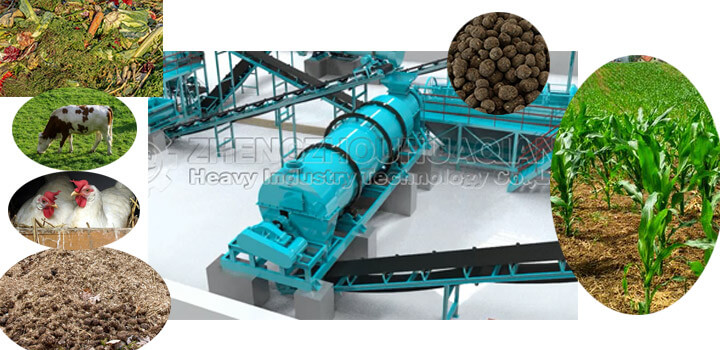 Organic fertilizer combination granulating production line process
Combination granulating process basically includes: Fermentation of organic materials, crushing of decomposed materials, mixing of organic and inorganic fertilizers, granulation, drying, cooling, screening, metering and packaging.
Fermentation of organic materials
The mixed materials were put into the fermentation tank, and the composting fermentation went through four stages: low temperature, medium temperature, high temperature and cooling. The materials were continuously aerobic fermented by the oxygen provided by the material in contact with the air when the material was turned over by the dumper. The whole process lasted about 15 days, and the compost lasted about 10 days in the high temperature stage. The harmful substances such as pathogens and insect eggs were killed to realize the harmless treatment of organic fertilizer. The
compost turning machine
realizes the automatic and intelligent control of fermentation dumper process. Material is decomposed and processed. It is crushed into powder by a crusher and then enters the granulation production line.
Organic fertilizer combination granulating production line
a)Automatic batching
Organic and inorganic raw materials are put into automatic batching bin according to different formulations and proportions.
b)Material distribution and mixing
Different raw materials are fully blended in the mixer.
c)Granulation process
The
two in one organic fertilizer granulator
is selected. This fertilizer granulator is in the original development and production based on the new research and development of a multipurpose wet granulation equipment. It not only improved the original wet continuous pusher granulator in use problems, and in the secondary granulating segment and the stirring teeth, a rotating cylinder method, not only to meet the grain quality requirements, but also to solve the portion of the material due to viscosity and humidity too large and paste wall problem.
d)Drying
e)Cooling
f)Screening
g)Coating machine
The formed particles are transported to the coating machine for coating. Particles are not easy to agglomerate after coated.
h)Cyclone dust collector
Recycle and filter the environment and dust in the workshop.
i)Automatic Packaging Machine
The coated particles are sent to the packing machine by belt conveyor for packing.

Top Searches - Trending Searches - New Articles - Top Articles - Trending Articles - Featured Articles - Top Members

Copyright © 2019 Uberant.com

634,640 total articles and counting.