It is mainly used for conveying materials of loading powder materials, other organic and inorganic raw materials in fertilizer industry. It also has the function of breaking and mixing loose bulk material.This hopper is suitable for the uniform feeding of the crusher in the fertilizer production.

Half-wet Material Crusher
Crushing large pieces of material to prevent material from caking and to obtain organic fertilizer powder. The machine is mainly used to crush materials of biological fermentation organic fertilizer with moisture of 25%~50%. Crushing granule size meets the requirements of granulation, and also adjusted based on user need within a certain range. Have good effect on grinding the glass brick, ceramics and broken stone such kinds of hard matter from the city life garbage organic fertilizer.
After screening, powdered organic fertilizer can be packaged uniformly and uniformly. The drum sieving machine mainly includes the frame, classification chamber, sieving rotor structure, a main reducer and a main motor. Material enters from the feeding end, rotates and classifies continuously in the drum, and evenly flows out from the outlet below, which effectively separates the finished product from the returned material.
Packing Machine
Packing final products in bags, with a storage hopper above the packing machine, with scale could setting weight of bags, contain sewing machine and conveyor.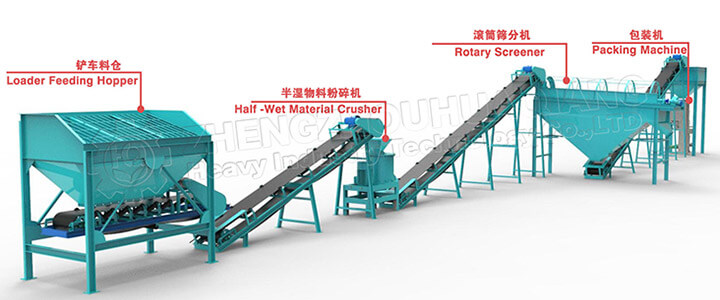 Powdery organic fertilizer production line is easy to operate, with small investment and quick return. There are also
organic fertilizer granulation production line
. After the powder of organic fertilizer is processed into granules, the market value is higher.

Top Searches - Trending Searches - New Articles - Top Articles - Trending Articles - Featured Articles - Top Members

Copyright © 2019 Uberant.com

638,327 total articles and counting.