Surgical Booms Market Analysis and Precise Outlook 2019 - 2029 | FMI Report
Posted by ankush321 on June 24th, 2019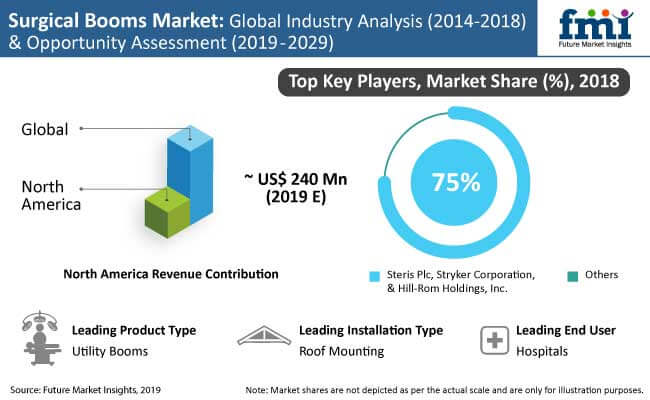 Surgical booms are also known as Equipment Management Systems (EMS). Surgical booms are used to constrain electrical wiring from the various equipment used in the OR. They also help organise the space in the OR by increasing the working space. Most surgical booms are suspended from the roof of the OR and are available in a number of designs and utilities. According to the latest research by FMI, the global surgical booms market is expected to account for more than US$ 380 Million in terms of value by the end of 2029. The surgical booms market report also projects significant growth potential with an anticipated average Y-o-Y growth rate of over 4.5% during the forecast period.

Increase in the Adoption of Minimally Invasive Surgeries is Likely to Drive the Growth of the Surgical Booms Market

Minimally Invasive Surgery (MIS) is one of the major trends in medicine. MIS is a safe, feasible, and patient-friendly method of performing medical procedures such as surgery. MIS offers reduced postoperative pain, shorter length of stay in a hospital, lesser scarring or damage to tissues, and generally leads to faster recovery. Hence, MIS is easier and less time-consuming. As clinicians seek safer and more efficient ways to perform surgery, they find new applications for minimally invasive procedures, because the benefits of the same for patients are paramount. Furthermore, the increasing number of insurance providers that offer reimbursement for costs incurred during most minimally invasive procedures is expected to increase the adoption rate of minimally invasive surgeries. The Centers for Medicare and Medicaid Services (CMS) provides reimbursement for peripheral access procedures, such as the insertion of a port or catheter into a large central artery that is directly related to or is near the heart. Thus, increase in the number of minimally invasive surgeries is boosting the demand for equipment management systems such as equipment booms.

Request Sample Report @ https://www.futuremarketinsights.com/reports/sample/rep-gb-4375

High Capital Investment for Integrated OR to Hinder the Growth of Surgical Booms Market

Integrated ORs utilise a crossover of medical interventions to form hybrid technologies. The development and integration of ORs requires the re-organization of professionals. In addition, there is a need to upgrade the capital equipment. Cost of such advanced capital equipment is high. Furthermore, compatibility with existing or new devices/infrastructure is likely to present a hurdle for the designers, manufacturers, and end users of surgical booms. A hybrid OR, on an average, requires 50-80% more space as compared to a conventional OR in the U.S., and 30-40% more in Germany. The additional space required is another factor that is likely to increase the cost of the setup of an integrated OR. Thus, the capital cost required for an integrated OR is likely to hinder the growth of the surgical booms market.

Surgical Booms Market: Segmental Analysis

The global surgical booms market has been segmented on the basis of product, installation, and end user. On the basis of product type, the surgical booms market has been segmented into equipment booms, utility booms, anaesthesia booms, and custom booms. Custom booms lead the market due to the flexibility of choice the customers have from manufacturers. Based on installation, the surgical booms market has been segmented into roof mounting and floor mounting. In terms of revenue, the roof mounting segment is expected to have a major share in the surgical booms market during the forecast period as these are more flexible and conserve space in the OR more effectively. On the basis of end user, the surgical booms market has been categorised into hospitals, ambulatory surgical centres, specialty clinics, and hybrid operating rooms. The revenue generated by the hospitals segment of the surgical booms market is expected to witness significant growth, which is driven by the presence of a large number of ORs and associated ICU departments at various hospitals.

Surgical Booms Market: Companies

Some of the key players in the surgical booms market include CV Medical LLC., Stryker Corporation, Hill Rom Holdings Inc., Amico Group of Companies, Steris Plc, Ondal Medical Systems GmbH, Getinge Group, Pratibha Medinox, Skytron LLc, and Palakkad Surgical Industries, among others.

Also See: Surgical Booms, Booms Market, Stryker Corporation, Rom Holdings, Surgical, Market, Booms



Binary Options Trading Signals

BOTS room has been around for over 6 years and is the community everyone uses for strategy development for options and Forex. With market veterans with over 20 years experience, what could be better!
Spray Paint Art Tutorials & Techniques - Spray Paint Art Secrets
Learn Spray Paint Art From the Mexican Originators.A huge spray paint art library of over 400 tutorial videos. Want to learn spray paint, contact us now!
Online Art Lessons
Visit us for hundreds of free online art lessons and classes. New tutorials added every week on how to draw and paint in Oil, Watercolour, Acrylic and more.
A Book of Al Thatcher Card Magic by Gordon Boyd
After Hours Magic: A Book of Al Thatcher Card Magic by Gordon Boyd with contributions by Tom Craven, Stephen Bargatze, Gary Plants, Mike Powers, Dan Block, Steve Beam, Del Copley, Wynn Mertz, Nick Trost (Courtesy of H & R Publishing), Robert Bengel, Evert
Advertise Here