An introduction to the World of Gin: Explore Gin Cocktail Varieties
Posted by Michael Griffin on June 26th, 2019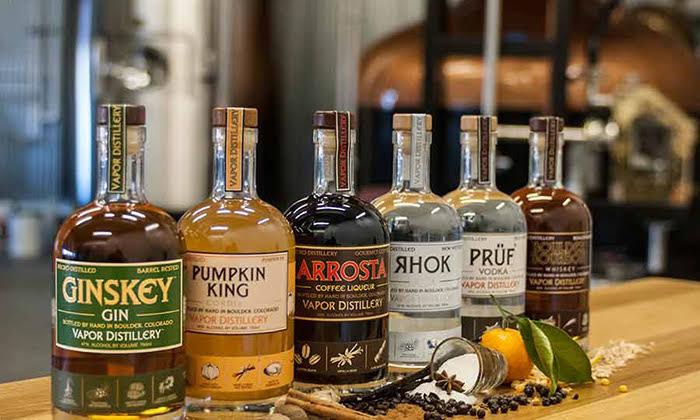 If you are into cocktails, then you must know about the popularity of Classic Martini, a drink whose main component is Gin. However, if that's all you know about Gin, then are you are missing too much in the world of alcohol. Gin is a diverse distilled this is known for its pine taste which comes from the juniper berries, which is the main ingredient in Gin. There is a great variety of Gin in Colorado, from Woody Creek to Caprock Organic, that you need to taste as soon as you finish reading this blog.
Gin lovers always find it very fascinating and it's loved by bartenders also for giving them a wide variety of mixing options. The botanicals in each bottle of gin give you a touch of heaven in every sip. So, whether you are a Gin lover or not get ready to know some exciting things about this mesmerizing spirit.
Who Invented Gin?
If you are wondering about the origin of Gin, then you would be amazed to know that it was created as a failed experiment. In the 16th century, Dr. Franciscus Sylvus was experimenting with a tonic to cleanse the blood of people with a kidney disorder. Later, the formula was adopted by England soon and since then Gin got fame worldwide.
Gin Making Process
This is a light-bodied distilled spirit with 40-47 percent of alcohol, made with the amalgamation of cereal grains, such as corn, barley, rye, and wheat. The reason for a hangover after drinking Gin is because of some natural congeners, which are impurities come while mashing the grains of Gin.
Gin is a clear liquid this is because is not aged for longer durations. Also, the makers are not allowed to reveal the age of Gin. A very few Gins could be golden-ish in color and that is due to adding some flavor to it.
Top 5 Gins in Colorado That You Can Try
Gins are famous for the wide variety in which it comes and also for the various varieties in which it can be served. Here are top Gins in Colorado that you can try.
Boulder Ginskey Barrel Aged
Leopold Bros. Navy Strength American
Caprock Organic
Woody Greek
Golden Moon
All these Spirits are made with the different blends of Botanics but the main component is juniper berries. All serve various options for cocktails, which we will talk about in the last section of this blog.
Gin Cocktails: Experience the best of Gin!
Gin & Tonic is one of the easiest recipes made from Gin, tonic water, 50 ml Gin with a wedge of lime for a perfect lemon twist. But that's not it there are many other cocktails can be made from Gin that you can enjoy!
Martini - Typically made with six parts Gin, one part dry vermouth and ice cube. A classic Martini is generally served with Olives on top of it.
Gimlet - Made with one part lime juice, two parts Gin and topped with soda.
French 75 - This is a traditional drink made with a blend of gin, sugar syrup, lemon juice, the drink is shaken and served in a flute and with Champagne.
Negroni - All with one part each of gin, Campari, sweet vermouth, served with ice and an orange slice.
Singapore Sling - This cocktail has a long list of ingredients, such as gin, Cointreau, cherry liqueur, pineapple juice, grenadine, lime juice, and dash bitters. Its name came from its origin as it was invented in a bar at the Raffles Hotel in Singapore.
Tom Collins: Made with fresh lime juice, sugar syrup and obviously the star spirit gin and topped with soda.
Hot Gin Toddy - Garnished with lemon on the top of Gin in Boiling Water. So, here I am going to end this blog with this perfect warm drink with winters. Hope, you have found your favorite Gin cocktail.