Bedroom Decor for All Seasons
Posted by Radmin on July 1st, 2019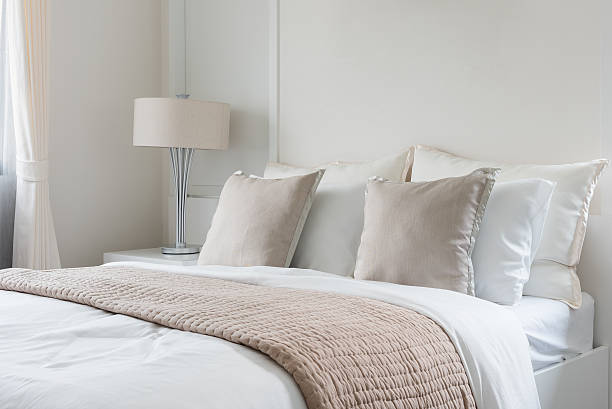 The most comfortable area in your home should always be your bedroom. No matter the season, having a comfy place to relax and unwind is a must. Here are some tips on how to redecorate your personal space for every season:
Winter
For starters, make sure your heater is working!
Throw as many pillows as you can on your bed with some oversized bedding. The more cushioning you have to snuggle, the cozier you'll be amid the biting cold. Be sure to use heavy blankets and warm sheets, like quilted or flannel, to keep you from shivering at night.
Place a fluffy rug beside your bed to protect your feet from the chilly floor. And finally, drape heavy, dark-colored curtains over your windows, as they absorb heat and help with insulation.
Spring
Start with some oversized king bedding; remove your weighty comforter, and replace your quilted sheets with a lighter set. You may want to retain an extra blanket for a few weeks longer just in case the cold decides to stick around.
For accessories, a bouquet on your nightstand is perfect for this time of year. Nothing welcomes the spring season better than the scent of freshly cut flowers. Swap out your winter drapery for a lighter version to give your room an airy vibe. Lastly, add brightly-colored artwork to your walls to reflect the scenery outside.
Summer
The warm weather has finally arrived, time to put away that area rug. It's generating unnecessary heat and accumulating dust.
Hanging some white sheers from your window is ideal for this season. The color absorbs less heat and makes your room feel a little cooler. Use cotton or linen bedsheets, as they're the most comfortable to sleep in during the hot temperatures. You may also want to experiment with light blues and yellows for your bedding and artwork for a beach-inspired theme.
Finish up with an essential oil diffuser to give your bedroom a fresh scent. Mint is a highly recommend fragrance for the summer, as it tends to make you feel cool and calm.
Fall
When fall arrives, it's time to pack away the beachy decor and go for shades of the season - vibrant yellows, browns, oranges, and reds. But more than that, prepare for the cooler temperatures to start. Invest in some heavier panels for your window, to keep out that fall breeze.
For oversized bedding, choose thicker blankets and textured sheets to give your bed a cozier feel. Put a dim lamp on your bedside table, as the darker your space is, the easier it'll be for you to fall asleep.