Points Clarified While Searching An Ideal Groom Via Matrimony Sites
Posted by Balakrishnan David on July 4th, 2019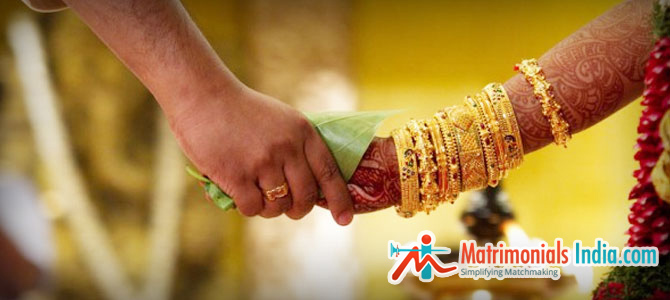 Every girl dreams to have a life partner who would keep her well and treat her like a queen. Well, in the case of Indian women, she gives a lot of importance to her marriage and looks for a number of qualities when searching for her dream life partner over matrimony sites.
As per the Indian culture, matchmaking is an important thing which should be done before confirming a groom or bride. However, for a modern girl, matching the kundli is not enough.
They have a list of points which they check and clarify before confirming their partner. Some of the most important points include:

• Her partner should be free from superiority complex
Traditionally, the men used to be the head of the family, running it with his great power. The women of Indian families used to be quite submissive. However, this particular ideology is not accepted by the educated sects of society. So, women looking for a life partner who would not show her the typical male chauvinistic attitude and will be free from a superiority complex.
Indian women feel that male chauvinism is not bearable and their groom should have a positive and wide mental horizon. He should treat her with the utmost care and ensures she gets an equal amount of respect in or outside the family. So, while scrolling through matrimony websites, they ensure checking this point.
• Her partner should be a good companion
For a modern Indian girl, the partner should be more than a husband. So, they always search for a partner who can be an amazing companion and a friend too. Being a perfect companion allows the relationship to run smoothly without any set of rules which would dictate on the relation. She wants to have a partner with whom she can freely share and discuss things like good friends.
Majority of women look for this particular quality when looking out for a perfect match over matrimonial sites. It is because get wants to be a part of a friendly and happy relationship, free from the attitude of dominating partner. As most women in India are working individuals, they want to have a companion like a husband with whom they can share all their problems and decisions without any hesitation or inhibitions.
• He should be a fun-loving one
Being very progressive in terms of thoughts and actions, Indian women have the vigour in them to enjoy life at its fullest. However, in order to make that possible, she needs to have a life partner who owns a fun loving nature. Women usually search for this particular quality in their grooms so that they can get relief from the laborious tasks and schedule in a wink.
For Indian women in modern India, the home should not become a prison which had no fun. They prefer men who can put up funny surprises for them and also bear a good sense of humor.
The fun elements actually make the relationship more strong along with providing enough spaces to both the persons in a relationship. In short, to make their shaadi a real success, they prefer a friend over a man with making chauvinistic ego.
• Her partner should be financially stable
This is one of the most important things which every girl searches in her life partner. The modern women are very practical and so while scrolling through the various profiles over matrimonial sites, they ensure checking the work details of the guy.
They check whether the guy is financially stable or not because in order to run a happy and prosperous married life, having financial stability is very important. So, they always consider this aspect when choosing their ideal life partner.
• He should have respect towards elders
It is commonly observed that wrong does hate guys who lack basic mannerisms and respect for their parents and elders. The prime reason for it is Indian girls are quite close to their parents and they always want her partner to show them equal love and respect so that they can keep the foundation of a healthy marriage.
• He should have a positive attitude towards life
No Indian Bride wants a guy who is full of pessimism and lacks the vibrant spark in him. So the Indian women always try to find an ideal partner who owns an optimistic attitude towards life and their relationship. This helps in dealing with all problems in a calm and supportive manner rather than initiating a fight on the first instance.
If they get hold of such a guy who had a positive frame of mind, they feel themselves to be quite lucky and safe. It is because a man with a broad mental horizon would always help her to fly high rather can chop off her wings and confining her within the boundaries of her home.
The women of India generally own a special affinity towards the end that are quite ambitious and open to adventure. Even though she is looking for her dream partner online, she wants to have a partner who can keep her really happy and secured, give her enough time and compassion throughout life.
To them, a perfect partner is someone who is a great companion and would keep her lady love in comfort and safety along with providing the necessary space to run a happy relationship. Today women look for qualities in a man hat would lead to a happy home more than financial securities.