Using Flags to Promote Your Event or Business
Posted by Radmin on July 5th, 2019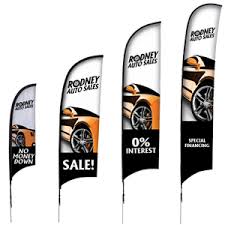 There are many ways you can try to get the attention of those who are either walking, riding or driving by the place of your business. A very effective way is to use flags - not just the kind of flags you hoist up a flag pole, but also the kind that stay flat where people can read whatever custom printing you want to put on them. Feather flags or teardrop flags are the kind of flags that can be staked into the ground, and their frame keeps them open and flat so your promotional message can be easily read.
First, you must choose what type of flag you want. Some of the choices available are tear drop, rectangular, feather flags and even custom shapes. Next, you must choose if you want single or double sided. On a single-sided flag, the message can be seen on both sides, but one side is a mirror image of the other. A double-sided flag has the same message on both sides of the flag reading the correct direction. Finally, you need to either choose a stock design, or have someone custom design the message you want put on your flags. A service that produces these flags will most likely have templates available or the ability to design them for you.
Once you have these flags made, you can reuse them again and again. Their overall lifespan will depend on how much time they spend outside in the elements. They can last up to 3 years if they are taken down every day. If they are left out all day and all night, that will significantly reduce their lifespan. Also, these types of flags each come with their own supporting frame to hold them out flat so they can be read easily. However, if you are in an area prone to high winds, they should be taken down when that occurs so your flags don't get damaged. Also, if you are in an area where there is a chance of theft or vandalism, your flags should be taken down at night or closing to avoid this.
Custom rectangular flags, teardrop flags, feather flags and flags with custom shapes can make your business or event much more noticeable than the other regular store fronts that may be nearby. They can be used for general promotion, or made to promote a sale or event. When you can put your custom message on a flag, the possibilities are endless!