Advantages of Applying a Sealer to a Concrete Floor
Posted by Radmin on July 5th, 2019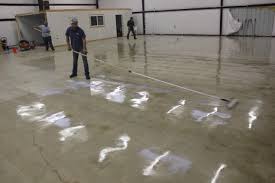 Concrete floors are a good alternative to other types of floors, such as wood, carpet, linoleum, and tile. Concrete is durable and easy to maintain. Whether it's in your home or your business, concrete may be the affordable and practical option you need. Applying a sealer for your concrete floor can preserve the floor and make it look great.
Concrete Floors
When you think of concrete floors, you may think of a garage, but concrete floors can be found in many places inside a residence or a business:
Kitchen: You can clean spills and crumbs easily with a concrete floor.
Bathroom: A concrete surface is water-resistant.
Basement: If your basement floods, you won't need to replace the carpet or flooring.
Foyer or mudroom: You want places with heavy foot travel to be easy to clean.
Commercial: You need a durable surface for retail stores, restaurants, offices, churches, health facilities, and schools.
Sealers
You need the best concrete floor sealer to prolong the life of the floor. The sealer will protect the floor from scuffs, scratches, and stains. It will prevent moisture penetration, which could lead to mold and other problems. The sealer will enhance the appearance of your concrete floors by giving it a shiny appearance.
Preparing for Sealing
Concrete is porous, so it must be sealed properly to make your floor last longer and look its best. You should clean, scrub, and rinse the floor before applying the sealer. Don't apply the sealer until the floor is completely dry. Repair any cracks before applying the sealer.
Selecting the Sealer
Choose the right sealer for your concrete floor. You can buy an acrylic waterproofing sealer that works on a variety of surfaces. Make sure the sealer is not toxic to humans and pets. An acrylic sealer is easy to apply and dries quickly.
Applying the Sealer
When applying the sealer, read and follow the manufacturer's instructions. Ventilate the area by opening windows and having a fan blow to force the fumes outward. Have a plan, for example, apply the sealer to a quarter of the floor at a time. Make sure to leave yourself a path out of a room. Take precautions like wearing gloves and eye protection.
You can use a rolling brush for most of the floor but use a hand brush for the edges. Stay off the surface until it dries. Once the floor has dried, you may want to add a second coat for a little extra protection and to make sure the surface is even. The sealer for your concrete floor will make the floor durable for years to come.