Why Your Retail Business Should Use Quickbooks POS
Posted by Rob A on July 6th, 2019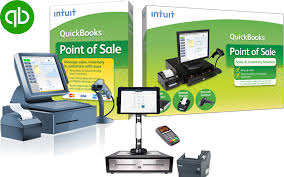 Whether great or small, if your business is in the retail space, your Point of Sale system is a staple in running your business. The Point of Sale (POS) system helps to ensure your business operations run smoothly, from processing transactions to managing inventory updates. Worth paying attention to is Quickbooks POS system. Not only does it boast a known, reputable name in Quickbooks, but also it leads in simplifying your payment operations and getting the most done in the least amount of time. Quickbooks POS has an online option, as well.
Quickbooks POS Online
Quickbooks POS online, is a cloud-based solution that allows for the system to be checked and updated from multiple locations. This solution is an excellent choice for retail businesses with multiple locations or where the performance of another location needs to be managed and assessed remotely. Here are some more reasons you should consider using Quickbooks POS system.
Integration Simplicity with Your Other Software
Usually, a retail space is working with various different kinds of software that aren't always connected through the same device. For example, inventory tracking and accounting software. Inventory is usually held off base somewhere, away from the retail store. In this case, data is not being shared and stored within the same device. In addition to this, later on, the necessary information will also need to be processed to the accounting software. Quickbooks POS online solves this issue by providing a solution that gives one platform for all of the software. The server is also scalability-friendly and will allow for multiple forms of software to be supported without diminishing the performance of any of them.
Top Level Security
Hacks happen, and if the time and place were always known, they could easily be avoided. That's where the Quickbooks Point of Sale system comes in. With Quickbooks POS, your stored and transferred data is guaranteed against would-be hackers.
The kinds of protection offered are:
Identity Management
DDoS Protection
Access Control
Intrusion Detection System (IDS)
Intrusion Protection System (IPS)
End to end encryption
Anti-virus
Anti-malware
And Firewall protection
With Quickbooks POS online, having information stored on the cloud comes with its own package of security. An major benefit is that protection is not only offered from hackers, but also from an accidental loss of data. This can happen due to accidental deletions, natural disasters, theft, and any number of other adverse situations. This is why Quickbooks POS offers data backup and disaster recovery.
If you are searching out a reliable, top-notch Point of sale system, the Quickbooks POS, and its various options, is definitely worth your consideration.