Five Interesting Places to Visit on a Mauritius Trip
Posted by Veena World Tour & Travels on July 23rd, 2019
A trip to Mauritius is always beautiful and heavenly. Various shades of blue and green adorn this beautiful island of the Indian Ocean. This place has turquoise blue waters, beautiful palm trees, white sandy beaches and various flora and fauna and abundant greenery. Mauritius is a popular destination with newlyweds, families, friends and even solo travellers. This island has everything for everyone. There is idyllic natural beauty, adventurous water sports and a rich culture to witness when one visits here. Availing a good Mauritius tour package provided by a good travel company is an ideal way to explore this heavenly island. Discussed below are five interesting places to visit on such a trip.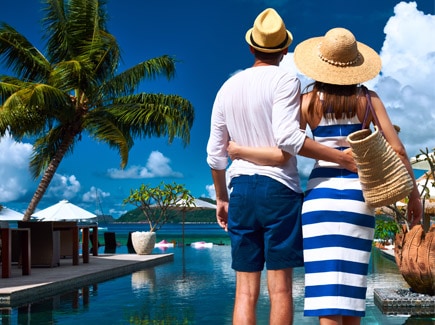 Trou Aux Biches: This is a beautiful and scarcely crowded beach in the northern part of Mauritius. This beach is popular with honeymooners and other travellers who love the solitude and serenity of the environment here.
Tea factory: A very old and reputed tea plantation is present on this island. It produces tasty tea of various kinds and sells a brand popular with tea lovers. Visiting the plantation provides panoramic views to travellers, tours of the tea factory, visits to the museum and tea tasting sessions. This place is an ideal visit for tea lovers and Nature enthusiasts.
Rodrigues Island: There is a wildlife park on this island that is a must-visit if you go to Mauritius and is usually included in Mauritius tour packages. You will be delighted to see hundreds of young and old turtles roaming the park and marvel at the wildlife here. This park is one of the best places to visit in Mauritius. Nature lovers, students, families, couples, children, youths and old people all find a trip to this island and park a memorable and great experience.
Tamarind Waterfalls: These waterfalls consist of a series of 7 cascades and natural pool with crystal clear water. You may go for some adventurous activities like canyoning or zip-lining here. These activities provide the ultimate excitement and pleasure to adventure seekers and enthusiasts. Even if you do not wish to take part in these adventurous activities, a visit to these waterfalls is a must if you want to witness some mesmerizing natural beauty.
Flic-en-Flac beach: This beach is very popular with tourists from all over the world. There are a number of restaurants and shops on this beach. A number of water sports can be enjoyed at this beach which causes a pleasant surge in one's adrenaline levels. Other famous things about this beach are the tasty street food, barbeque booths and free music and dance events conducted here. These provide travellers with a fun and enjoyable experience on this island.
Thus, if you wish to visit Mauritius and witness the beauty of this island and indulge in exciting activities here, you must contact a good travel agency. Such an agency will be able to provide a nice Mauritius tour package that will suit your preferences.


Like it? Share it!
More by this author