Different Types of Food Dryers
Posted by Radmin on July 27th, 2019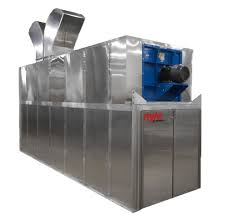 Drying is a vital step in food manufacturing. It involves controlling temperatures to completely remove moisture from products. This hinders microorganisms from growing, which prevents spoilage and extends the shelf life of goods.
There are different types of equipment used to dehydrate food. Read on to learn about the most common ones.
Tray Dryer
Because it's typically designed for small-scale operations, tray drying is the simplest to execute. It only involves laying out food products on flat containers and leaving them exposed to either sunlight or thin air.
In some cases, the goods are placed on a conveyor belt that passes through a tunnel drying machine. Inside, they're exposed to heat, which will evaporate all moisture.
Cyclone Air Dryer
Convective heat transfer through steam is the basic principle of cyclone air drying. Inside this machine, hot air blows steadily from different directions to dehydrate food and ensure it won't hit the walls. The process is suitable for any wet goods, but it's standardly used for vegetables and fruits, like beans, mangoes, and grapes.
After, a cooling system automatically operates and neutralizes the temperature of the food before it's moved to the next phase. And because of its quick processing time, a cyclone dryer is commonly used in dehydrating large quantities.
Flash Dryer
One of the most time-efficient options is flash drying because it takes only a few minutes to complete. However, it consumes a lot of energy. It involves generating heat through a light source to get rid of moisture.
Aside from drying, the machine can also turn liquids into powder, like soup and gravy. It can create starch from raw ingredients too, including maize, potato, and wheat.
Freeze Dryer
Perhaps one of the most complicated processes used today, freeze drying entails getting rid of moisture by crystallizing it. This method, also called lyophilization, drastically decreases the temperature of a product down to its freezing point.
Once frozen, the ice is removed through sublimation, which turns it into a gas (vapor) without liquefying it. Very low pressure is required for this technique, so it can't be used for all food products.
Each of these machines has unique functions that can't be performed by the others. For instance, a cyclone dryer can't produce powdered goods, but it can be used for large quantities. It's best for food manufacturers to invest in the one that's most suited for their products.