What to Look for When Buying a Service Dog Vest
Posted by Radmin on July 28th, 2019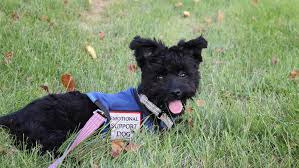 Are you planning to buy a service dog vest for a relative or friend's special canine companion? A quick search through pet shops and certain online stores will yield a wide variety of options. Although the accessories come in various colors and designs, you'll realize that they kind of look the same. You may even pick the first one that fits the dog and call it a day.
That would be a wrong decision on your part as not all products are made equal. Even a popular and well-reviewed brand may lack some helpful features. Here are a few things you need to consider to get a good buy:
Is It Easy to Put on the Dog?
Finding one that's the right size doesn't automatically mean it's a breeze to use daily. Besides a good fit, the vest should have straps that can be easily fastened and unfastened. Otherwise, it'll just end up gathering dust on a shelf or drawer. What a waste of money!
How Comfortable Is It When Worn?
Since it'll be worn for long periods every day, the vest should ideally have a lightweight design, breathable mesh lining and removable chest pad, so the dogs don't run the risk of overheating. Padded straps also provide ease of movement. The more comfortable they feel in their attire, the better they'll be at focusing on their tasks.
Is There a Handle at the Back?
Some vests don't have this convenient feature. Handles are essential because service dog owners latch on to them when they rely on their canine companions for directional assistance and support.
Can It Be Seen in Low Light?
When you're checking out a service dog vest for sale, make sure it has reflective trims that are solid, bright, and strategically placed. They're very practical as they allow passing motorists to spot the dog at nighttime.
Are There Enough Pockets?
A vest that has a lot of compartments is definitely worth buying. Size matters, too. Small pockets are meant to hold important documents and informational cards, while the bigger ones can contain treats, water bottles, and collapsible water dishes.
The next time you look at a service dog vest for sale, take the time to scrutinize it. Hopefully, this guide will help you make the right purchase.