Improve office communication with the cloud
Posted by mikekomo3 on July 31st, 2019
Long gone are the days of the office telephone and paper memos. There are now so many new and innovative ways to communicate with employees and colleagues that even email is feeling a little behind the times.
The cloud allows for fast, secure, and simple ways of communication to become a reality in your workplace, and Syntax IT Support London is here to guide you through the many ways the cloud can help improve office communications for your business.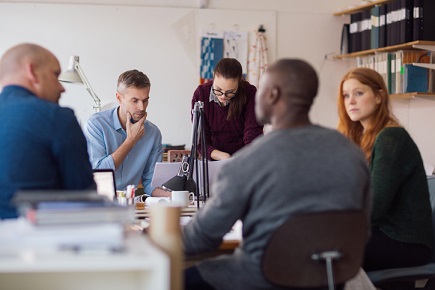 Instant messaging
One of the things made possible by the cloud is text-based instant messaging over a network, meaning employees can have rapid-fire discussions to work through projects and deadlines easily. It's much faster than emailing, as well as being more conversational and less formal.
Not only that though - business grade options for instant messaging can also be threaded, meaning it's easy to save important discussions and return to them later.
Wi-Fi voice calls
Another way communications are changing is with the introduction of voice calls made over Wi-Fi, replacing standard telephone usage. Once you decide on a service provider, you will instantly feel the benefits. Wi-Fi voice calls give you the ability to make and take calls from any number of different locations, without worrying about signal or overseas charges. This works wonders if you have employees who travel, or frequently work from home.
You'll also end up spending less on Wi-Fi calls than you would on regular telephone costs, as you avoid any limitations on contracted minutes or location. Not only that, but it's easy to transform these calls into conference calls with multiple people attached.
Video calls
This is the next step from voice calls. Face-to-face minutes are an important part of any business, but sometimes it's just not practical in terms of travel and cost to bring everybody together. Video calls deliver voice calls with a live video feed, meaning you can have face-to-face meetings without the need to even be in the same place.
Like voice calling, it's easy to bring more than one person into the call, which lets you have a fully-fledged meeting of your business without everybody having to be in the same place. Also like voice calls, this feature isn't costly. As long as everybody is connected to Wi-Fi or has data on their device, the cloud makes it all possible.
Screen sharing
Screen sharing fills the role once held by attaching files to emails, except now it's quicker and easier to share documents amongst multiple people and devices.
Screen sharing lets you share a webpage or plan with different devices, even letting you give a web presentation to multiple people at once. You can also share files this way and let colleagues not only instantly view the documents, but comment on them and return them to you just as easily. This makes working collaboratively simpler than ever.
What service should you choose?
There are a lot of services you could choose which provide all these great cloud-based features for your business. Two of the most popular are Skype and Slack.
Skype is an easy to use communication service that lets you voice call, video call, instant message and include up to 25 users in one call/chat – all through Wi-Fi. Slack on the other hand is a popular choice for those prioritising instant messaging, file sharing and text chat within your business.
An alternative service is Yammer, provided by Microsoft Office 365, which does all of this and more. It has instant messaging and file sharing services to match those of Slack, and the ability to include even more people in video and voice calls than regular Skype.