Deciding If Your Dog Should Be a Service Animal
Posted by Rob A on August 17th, 2019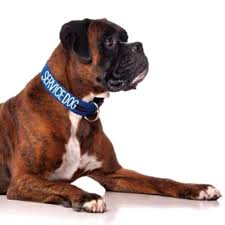 Having a service animal is a great way to improve your quality of life. Here are some tips if you think your dog might be a good candidate.
Evaluating Your Dog
There are currently no breed or size restrictions when it comes to service dogs. Dogs who are aggressive, do not like crowds, loud noises, new environments, or are easily frightened may not be a suitable fit. It is also important to take into account the age and health conditions of the dog and whether or not the training process and daily demands of the position are best for the animal.
In order to qualify for a service animal's assistance you will need to have a diagnosis from a healthcare professional for a qualifying condition under the Americans with Disabilities Act. You can qualify if you have a physical disability or a psychological or emotional condition. For more information visit the ADA website to see if you qualify for a service animal.
Training Your Dog
After you've determined that you and your dog are ready to begin you should find a qualified trainer to work with even though there is no requirement that you have to work with a trainer. While you could train your dog on your own this is not suitable for everyone since you may not know what specifics to train your pet in, and a trainer can help provide you with better ways to teach your animal the new tasks and behaviors they will need to perform.
On average it takes around six months or 120 hours to properly train a service dog. One of the main points of your training should be to teach the dog how to do its primary task, whether that is helping with physical obstacles, anticipating a medical alert, or using a tactile response during a panic attack. Next, the dog needs to be trained how to behave in public. Some signs that your dog is ready to be certified are that they do not sniff unless allowed to do so, remain quiet and calm in public, show no aggressive behavior, and do not solicit for food or affection from others.
Equipping Your Dog
After you and your furry friend have done the hard work it is time to equip you and your pet for success. Having an ID card and physical signs, like a service dog collar or vest will help the transition go smoothly and allow you to enjoy going out in public with your service dog.
Most of all you should enjoy bonding with your pet and appreciate the new role they will take in your life. Whether you are buying their service dog collar or watching them learn a new task, be sure to enjoy the journey.