How to Dress Up Your Jumpsuit for a Formal Affair
Posted by Rob A on August 21st, 2019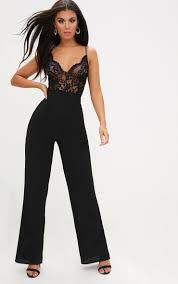 Jumpsuits are a popular new trend in fashion, and more women have begun to wear these comfortable, fashionable outfits over the last few years. But they are still largely seen as a more casual, playful style choice. While you might commonly see them worn on the street, and they're beginning to make their way into professional attire, very few women would venture to wear a jumpsuit to an elegant evening affair. But that's largely because most women don't know how to properly dress up a jumpsuit to make it suitable for such an event. Here are a few tips that will allow you to wear your comfortable jumpsuit to a more formal affair.
The Right Jumpsuit
First, it's important to note that not any jumpsuit is suitable for an evening affair, just as not all dresses are acceptable. So, if you want to wear a jumpsuit to a formal event, make sure you are looking at elegant evening jumpsuits. This will give you the right foundation for creating a sophisticated, stylish outfit that you can be comfortable in all evening long. Your jumpsuit should be sleek, a solid color, and tailored to flatter your figure.
Accessorizing
Once you have the right style of jumpsuit, all you really need to do is accessorize it properly for the event. One idea is to wear a stylish blazer with your jumpsuit to give your outfit a fashionable, put-together look. Select a blazer color that is either very similar to your jumpsuit, if you want to create a more subtle look, or one that contrasts with the jumpsuit's color if you want to add more depth and layering to your outfit.
Of course, the shoes you choose are always important. High heels are a must, especially for wide-leg jumpsuits. This will help add a level of elegance and style to your jumpsuit. If you must wear flats, choose something that really stands out—a bold color, something with sparkle, or another type of shoe that can catch the eye.
Finally, select your jewelry with care. Because your jumpsuit can be considered more "playful" than, say, a cocktail dress, you should opt for much more formal jewelry than you might otherwise select. Avoid jewelry that is bright, playful, or too clunky. You want something that adds shimmer, shine, and sophistication. Gold or silver, along with diamonds, rhinestones, and pearls are all high-class options that will really help to dress up your jumpsuit.
Own It
And last but not least, don't feel the need to apologize for or justify wearing a jumpsuit to a formal evening event. When you start with elegant evening jumpsuits and add the right accessories, you will be perfectly within the dress code. So wear that jumpsuit with pride, and you'll be one of the most sophisticated women at the party.