4 Tips to Pass Your Emissions Test
Posted by Radmin on August 25th, 2019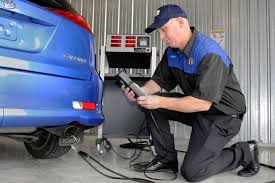 Emissions tests are a form of air emission monitoring that regularly measures car pollution. Major metropolitan areas that have failed to meet federal air quality standards are required to implement them. If you live in one of these cities, here a few tips you can do to pass a vehicle inspection:
Change the Oil
This should be done regularly depending on the model, so consult your manual. Fresh oil produces less major pollutants like hydrocarbons, while dirty oil releases more. While having it changed, you can also ask your mechanic to perform a visual inspection. They can make sure that nothing is broken or out of place.
Clear Your Check Engine Light
If it's on, then something's wrong; you'll automatically fail even before you begin your emissions monitoring test. There are several reasons for it:
Your oxygen sensor needs to be replaced.
You need to change your Mass Airflow Sensor.
You have a bad catalytic converter.
You need a new spark plug.
Your gas cap is loose.
Identify the problem and have it fixed. Go to your local mechanic and have your car checked out. They can prevent small problems from escalating.
Use Good Fuel
Using premium fuel may be costlier, but it can help reduce your carbon footprint. It contains active cleaning agents that remove dirt from the engine and prevent the buildup of carbon deposits in the intake valve. Your vehicle performance also improves, becoming more fuel-efficient and reducing its emissions.
Check Your Tire Pressure
Low tire pressure increases your fuel consumption and CO2 emissions. Ideally, you should check your tires at least once a month. Many states also require a dynamometer test, which entails putting the tires on rollers to allow the vehicle to run at high speeds while remaining stationary. Tires with low air pressure are more flexible, reducing the energy conversion from the motor to the ground. This means your engine is working harder and burning more fuel than it should to move the car.
These are just some simple tips you can follow to pass the emissions monitoring test. Failing will mean you can't register your vehicle until you have it repaired, which will undoubtedly cost more. You'll end up saving time and money by performing these little acts regularly and keeping your car in good shape.