Family Accommodation in Cuba - Casas Particulares
Posted by reedcooper on September 15th, 2019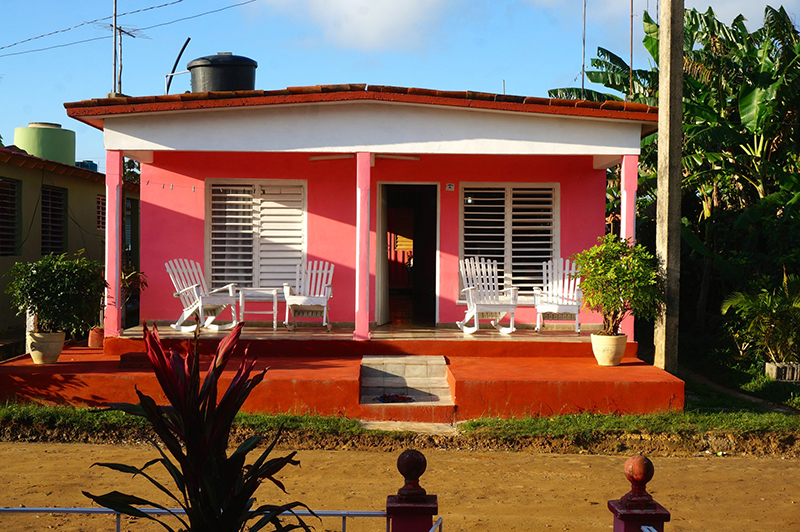 Senor Mezerene, the host of Hostal Villa Liba, welcomed us to his casa and said: We prepare the best meals in Cuba! And that was true. The host was a happy and funny person who spoke good English. There were framed science of economics diplomas hanging on the wall in his workroom; he had changed the white-collar job for a more profitable quartering business, like many other of his fellow countrymen.
He worked in the house all day long, his wife mostly in the kitchen. Always when he passed by, he picked a white flower on the terrace, gave it to his wife along with a kiss, to his guests, and there was also a white flower on the breakfast tray every morning.
"Mariposa is the national flower of Cuba. Can you feel its fragile and elegant scent?" the host said. I saved mine between the pages of my trip book; it was probably the only time I opened the book on that trip. Now that yellowish, fragile flower, like silk paper, is a nice souvenir.
The best options when you choose your accommodation are the bed & breakfast- style houses, the Casas particulares in Havana Cuba, which are run by families. There is a lot to choose from; we stayed in common villas, marvelous historical blockhouses, in towns and small villages. But business has been restricted; a family is only allowed to keep two double rooms for rent. In some of the rooms there is a spare bed for a child.
The room price is 15-30 CUC depending on area and season. Most casas also have a food making license. The families earn well, but they pay 100-250 CUC tax/month per room and in addition to that for the parking area and food making licenses. The tax is enormous considering that a physician earns only 20-30 CUC / month.
All the casas are different but one thing is for sure; the hosts help you with your problems, even in gesture language, if needed. They are helpful with everything, they supply information, are your guides, get you clothes washed. The help is sometimes irreplaceable, especially during high season. They have their own network and can arrange the next accommodation for you. Your own cell phone is of almost useless in Cuba as the reception is often poor and the area code system very complicated- area codes are different when calling from one city or an other one to a third one.
Also the meals served at the casas are far better than in average restaurants. You can locate the casas by a green triangle or a blue arrow sign.
We had to spend some nights at hotels because we longed to be near the ocean. We had to do that because it is forbidden to arrange private accommodation close to the big hotel areas, i.e. the best areas at the shore. The hotels are at least 51% state owned. The nice ones are too expensive for a budget traveler and the more affordable ones are not very nice at all!
We wanted to be close to the ocean and ended up in Playas del Este, a popular place with people from Havana, though the travel agency agent recommended Varadero as the best option.
When we arrived at Hotel las Terrazas of the Islazul hotel chain it was raining and people sitting in the lobby looked like it had rained all their holiday long. The main clients of this state-owned hotel chain are Cuban "work heroes". The Islazul hotels are open to them; otherwise Cubans are not allowed to stay at hotels.
Our hotel apartment seemed marvelous with its American kitchen and renewed room, the price was 36 CUC+ + safe 2 CUC per night and breakfast 5 CUC/person.
When we returned later in the evening soaking wet from our trip to the food market with the intention to prepare the evening meal, we noticed that there was no stove, dishes or cooking equipment. I emptied my shopping bag, the supplies at the currency shop had not been varied, we only had canned meat and vegetables, cream crackers, mayo, olives and juice. - There was no way to prepare a delightful meal out of that, I thought, so we opened a bottle of rum. There was no warm water in the shower and we went to bed feeling cold. It rained and the windows had no glass, only adjustable wooden drapes.