Important topics to prepare for REASONING ABILITY SECTION of IBPS PO EXAM ?
Posted by karan ibt on October 18th, 2019
As a committed aspirant, you must be preparing hard for the forthcoming IBPS PO exam. We hope that you are aware of the latest exam pattern of IBPS PO Prelims exam which comprises of three major sections- Quantitative Aptitude, Reasoning Ability and English.
Important Facts
In this section, there will be a total of 35 questions that are to be attempted in 20 minutes. You should make sure that you are covering maximum topics of this section. For this section, you are supposed to do objective study rather than doing subjective study. It implies that you should try to learn the topics that are solely part of the syllabus. You should not waste time in getting into too deep of any of topic and try to focus on more important topics.
In this blog, we will primarily focus on the Reasoning Ability section and will discuss important tips of preparing this section. This blog is based on latest trend of IBPS PO exam where there is also sectional cut-off for each section.
Let us now discuss the important tips : -
1. Do focus more on topics like Puzzles and Seating Arrangements. You can expect around 10 to 15 questions from this section. Going by the previous exam patterns, you can expect 2 to 3 sets of puzzles and seating arrangements. The student can expect questions based on one linear arrangement (people sitting in a single row, some facing south and some facing north), one moderate circular arrangement, one floor based puzzle. You also try to study tabulation and box based puzzles with thorough understanding.
2. Thereafter, you should prepare questions on topics like Blood Relations, Direction, and Ranking. The students can expect around 5 to 10 questions from these topics. The students should try to understand the language of the questions and then try to apply the correct logic of solving them. If practiced well, these questions can be very scoring.
3. The another important topic is Input-Output and so students should practice complex questions from this topic. In the new pattern, it is presumed that some Coding-Decoding is also involved in Input-Output questions. While preparing Coding-Decoding questions, you should pay attention to the numbers and codes in the given code. While reading the question, do identify the order of sequence (Ascending or Descending).Click-> IBPS for exam form
4. You can expect around 5 to 10 questions from topics like Syllogism, Data Sufficiency, Inequalities, and Analogy. In Syllogism, you can expect moderate to easy questions that are less time-consuming. The questions might come in the form of 2 to 3 direct statements, 2 to 3 conclusions, possibility based questions, and negative information based questions. The questions based on Inequalities will be asked in two forms- Coded Inequalities and Direct Inequalities. In Analogy questions, the questions will be easy to moderate where you have to identify relationship between two elements by using similar aspects. You have to practice as much questions on Data Sufficiency to get familiar with patterns and formats of the frequently asked questions.
6. It is always to practice questions in online mode. Therefore, you should enroll or subscribe to any of the reputed online coaching courses or online test series to practice topic tests and IBPS PO ONLINE MOCK TEST.

Do remember that IBPS PO exam is held in online mode and your proficiency on desktop will matter most.
7. It is advisable to learn and understand every concept properly. The speed of answering and accuracy are the two important aspects that will pave way to your success. In your revision stage, do pay heed to your time of answering questions and score in the mock tests. Do work hard on the feedback and try to overcome your weakness by consulting subject-experts.
After completing the syllabus of Reasoning Ability section, the students should aim to score 30 plus to ensure their success. As there is introduction of sectional cut-off, your score in other two sections will also be very important.
So, work smartly and deliver your best efforts!
In case you are located nearby city and searching for BANK PO COACHING IN PATIALA or any of the bank exams then IBT PATIALA is an ideal coaching institute to guide and train to ace the exam with flying colors!!!
All the Best!!!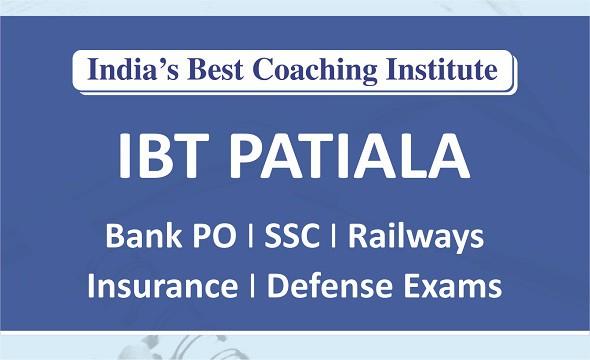 Above content is written by IBT INDIA

Branch IBT PATIALA

Also See: Ibps Po, Reasoning Ability, Po Exam, Expect Around, Section, Questions, Topics



Learn to Play the Violin or Fiddle

Music is too precious and too important to limit access to it! Our mission is to bring the joy of music to as many people as possible, regardless of location, vocation, background, culture, or ability.