Trending Wedding Gown Terms You Should Know
Posted by Radmin on October 19th, 2019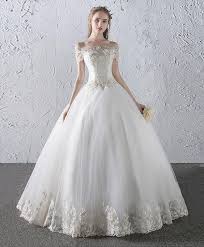 Weddings are wonderful ways to celebrate everything that's sweet in this world: love, romance, soulmates, friendship, family and fun. There's so much to look forward to when it comes to the wedding, but perhaps the most breathtaking aspect of all is the beautiful bridal gown. As you'll see when you look at bridal gown design, there are so many gorgeous dresses that can make brides feel truly radiant on one of the most important days of their lives. Whether you're getting married soon and starting to look into your options for a bridal gown, or you're the friend of a bride and you want to help her find her perfect dress, here are some of the key terms you should know. These terms are trending on the wedding dress scene today, so keep then in mind when it comes to bridal gown shopping!
A-line
An absolutely awe-inspiring silhouette for the overall shape and design of the dress, A-line wedding gowns are in fashion. These gowns are slim on top and fitted through the waist before softly flaring away from the body for an ethereal, ultra-romantic look that makes any bride look her best. You can explore plenty of options for A-line bridal gowns at your trusted wedding retailer. Trying A-line dresses on is a great way to see what suits your body.
Bateau
While the silhouette of the dress is important, so is the neckline. One popular option for bridal gown necklines is the bateau, which elongates the neck for a sophisticated style. The shape delicately follows the curve of the collarbone, just about reaching the tip of the shoulders. With a straight cut that conceals more of the décolletage shows, bateau style dresses are modern and magical. Plus they can complement both sleeve and sleeveless gowns effortlessly.
Bell Sleeves
What's really in style these days is choosing a wedding gown that works for your body and your personality. Brides want to feel comfortable and confident in their wedding dresses, and this extends to choosing the right sleeve design. Some brides prefer to have more skin showing with stunning strapless or sleeveless designs, while others like the romantic addition of sleeves to their bridal gown. Bell sleeves are a brilliant choice, as they are narrow at the armhole before tapering out to reach their widest point at the wrist. Every bridal gown with bell sleeves makes a romantic, luxurious statement that benefits brides in the best way.